Life came to complete halt around 5 pm at 12 Janpath on Friday where former Union minister and prominent dalit...Read More
NEW DELHI: Life came to complete halt around 5 pm at 12 Janpath on Friday where former Union minister and prominent dalit leader
Ram Vilas Paswan
lived for more than three decades.
Just half an hour back, his body was taken out of his official residence for Patna amid supporters shouting slogans for the departed leader "Dharti Goonje Aasmaan, Ram Vilas Paswan…Ram Vilas Paswan Amar Rahe" and dozens of inconsolable women and children bidding final goodbye to the departed leader.
Hundreds of supporters queued up outside the bungalow in Delhi's heart since morning braving the pandemic to pay their tributes to the leader who stood for the rights and welfare of the poor and deprived sections.
"We lost our guardian. This gap cannot be filled. He made the lives of several poor in every possible way. It's the end of an era," said a group of women. They are family members of Paswan's personal staff who have been staying at 12 Janpath for over two decades.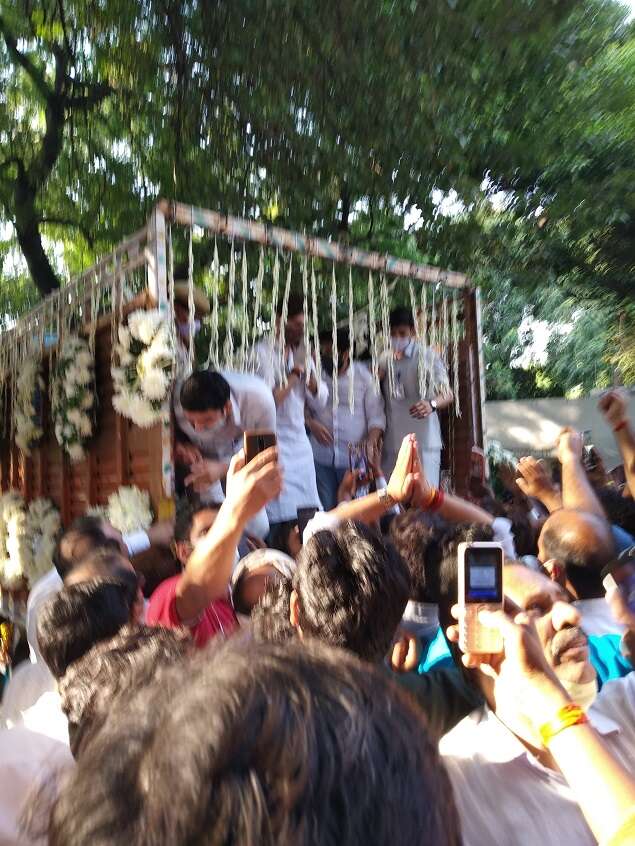 Earlier in the day, his body was kept in the drawing hall where Paswan used to meet visitors, leaders and journalists. Most of his followers praying for him were inconsolable and their eyes welled with tears.
Dozens of leaders including President
Ram Nath Kovind
, Prime Minister Narendra Modi, defence minister Rajnath Singh, home minister Amit Shah, BJP president J P Nadda and Union ministers Ravi Shankar Prasad, Smriti Irani,
Prakash Javadekar
,
Piyush Goyal
, Jitendra Singh and Giriraj Singh paid tribute to the demised leader. Congress leader Rahul Gandhi with party's Bihar in-charge Shakti Singh Gohil and Sashi Tharoor also paid their tributes.
Paswan's body will be cremated at Patna on Saturday. Union minister Ravi Shankar Prasad will represent the Centre at the state funeral.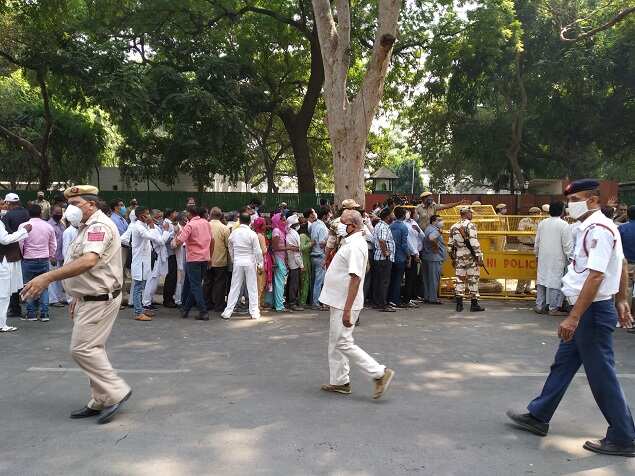 The LJP founder's body was kept for "darshan" till 2 pm. As soon as it was loaded onto a truck decorated with flowers and his photograph, his supporters started shouting slogans of "Jab tak chaand sitare rahega, paswan tera naam rahega" and many women supporters were spotted weeping at the gate. "Chirag has done what a son should do. But it was God's wish," said LJP's national spokesperson Sanjay Saraf.
Sources said when Paswan was in hospital, Lok Sabha speaker Om Birla, Union minister Nityanand Rai and BJP general secretary Bhupendra Yadav had met him. Modi and Shah had also talked to Paswan over the phone.
Specialists from Chennai and AIIMs were rushed to the hospital where he was undergoing treatment so that the best medical care was provided. "Everyone tried his level best, but we lost him forever," said a source.