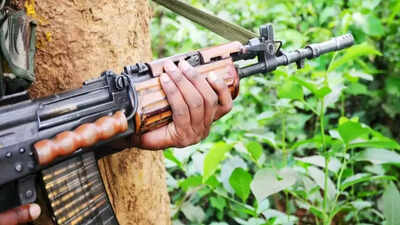 Violence ebbing
NEW DELHI: With both the violence levels and geographical spread of Left-wing extremism (LWE) in the country shrinking over the past decade, the number of affected districts identified under the security-related expenditure (SRE) scheme came down to 70 in July 2021 from 126 in April 2018. Even the most-affected districts declined to 25 in July 2021 from 35 prior to April 2018.
A few new areas, however, have been identified as potential locations for emergence of Naxalism. To impede the expansion plans of CPI (Maoist) and also to restrict them to bounce back in the areas recently taken away from LWE influence, eight districts have been categorised as 'districts of concern'. The revised categorisation is a more realistic representation of the current LWE scenario, the home ministry said in a release on a meeting chaired by Amit Shah on Sunday with the CMs of 10 states or their nominees.
Addressing the CMs, Shah said there has been a lot of success due to the joint efforts of the Centre and states in cracking down on Left-wing extremism. He said that while the LWE incidents were down by 23%, the number of deaths had reduced by 21%.
Shah said after decades of fighting Maoists, a point has been reached where the annual death toll is less than 200 for the first time. The fatalities declined by 82% from all-time high of 1,005 in 2010 to 183 in 2020. The area under Maoists' influence too shrunk from 96 districts in 2010 to 53 in 2020. These miscreants have been pushed to a few pockets with only 25 districts accounting for 85% of the LWE violence in the country.
The fight against the LWE menace is now in crucial stage and the government is optimistic of reducing the menace to an "insignificant level" at the earliest, said Shah. He added that the fight had reached its end and it needs to be accelerated and made decisive.
Shah said to completely get rid of the LWE problem, the full development of the country and the states affected by it needs to be ensured.
The Naxal review meeting on Sunday was attended by the CMs of Bihar, Odisha, Maharashtra, Telangana, Madhya Pradesh and Jharkhand and the home minister of Andhra Pradesh.

FacebookTwitterLinkedinEMail