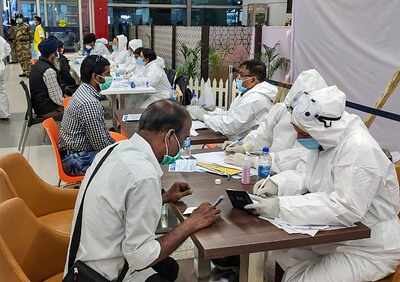 India's declining Covid-19 graph dipped below two significant milestones on Monday, with daily cases going under 50,000 for the first time in three months and the 24-hour death toll falling to three figures after 70 days. The country recorded 42,667 fresh cases on Monday, the lowest daily case count in 91 days. A lower tally than this was last reported on March 22, when 40,652 cases were recorded.
The death toll from the virus on Monday was 908, not counting 258 old deaths reported by Maharashtra. The daily toll had gone past 1,000 after April 12, when 882 deaths were recorded, and had remained in four figures till Sunday (June 20). The toll had touched a peak of 4,205 on May 11. The seven-day rolling average of daily cases fell below 60,000 on Monday to 58,475. The average now stands at less than 15% of the peak of 3,91,263 recorded on May 8.
The seven-day average of daily cases has fallen every single day after May 8, indicating a sharp decline of the second wave. However, as many experts have pointed out, the second wave is not over yet as positivity rates remain high in several pockets of the country. The seven-day average of daily deaths stood at 1,178, nearly a fourth of the peak. The average had peaked at 4,040 on May 16.
The sharp drop in cases was in keeping with the dip in numbers every Monday due to lower testing and staff shortage over the weekend.

FacebookTwitterLinkedinEMail