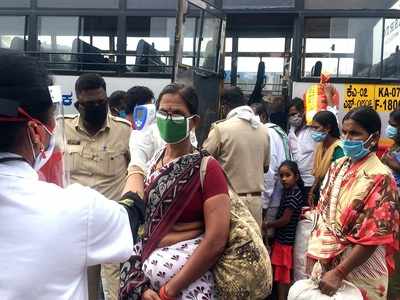 Ahmedabad has the highest case fatality rate and Mumbai the highest number of cases and deaths per million among the country's nine largest megapolises, but the growth of cases and deaths over the last fortnight has been sharpest in Bangalore, Chennai and Delhi. Worryingly, the case fatality rate (CFR) or the number of deaths for every 100 positive cases has worsened over this period in six of the nine cities.
The jump in CFR in Delhi, Mumbai and Chennai, to a significant extent, is because of the addition of hundreds of earlier deaths following data reconciliation exercises. However, even without any such exercise, Ahmedabad has the highest deaths per million after Mumbai.
The highest CFR of 7.6 in Ahmedabad is followed by Kolkata, Bangalore and Mumbai. This ratio is lowest for Hyderabad. Chennai, despite the addition of older deaths continues to have a low CFR of 1.3 against the national average of 3.3.
For six of these nine megapolises, the average daily growth rate of deaths over the past two weeks was higher than the growth rate of cases and hence the case fatality rate has worsened. Once again, in Mumbai, Delhi and Chennai, adding earlier deaths has contributed to this trend. In contrast, in Kolkata, Hyderabad and Surat, cases have been growing at a faster rate than deaths and hence the case fatality ratio has improved over the last fortnight.
While Bangalore had the fastest growth rate of deaths over this fortnight, that is largely a statistical quirk due to the fact that it started from an extremely low base. As a result it still has only 44 deaths, though with a relatively high CFR of 5.2. Similarly, Hyderabad had the sharpest jump in cases, but the low base on which that jump has come means that it still has the third lowest cases per million figure among these nine cities.
In the past two weeks, even as India added over 1.5 lakh Covid-2019 cases at an average daily growth rate of 3.8%, the growth in cases in these cities kept pace. With deaths exhibiting a similar trend, a large proportion of India's recorded cases and deaths remains confined to the urban centers. More than half of the cases (57.3%) and deaths (71.4%) are confined to these nine largest urban agglomerations with 5 million plus populations.
Urban agglomerations are defined as continuous urban habitation. Mumbai UA, for instance, includes the Municipal Corporations of Mumbai, Thane, Navi Mumbai, Kalyan-Dombivali, Ulhasnagar and Mira Bhayandar. Similarly, Kolkata UA spreads over the districts of Kolkata, North and South 24 Parganas, Hooghly and Howrah. Chennai UA sprawls across Chennai, Thiruvallur and Kancheepuram districts while Hyderabad UA includes Hyderabad and parts of Rangareddy and Medak districts. Ahmadabad UA also includes Gandhinagar.
The 2020 population estimates for these UAs are taken from the United Nation's World Urbanisation Prospects. The census doesn't include Delhi's satellite cities like Ghaziabad and Gurgaon in the Delhi UA and hence Delhi's cases as well as population are entirely for the NCT. Delhi's 2020 population is taken from the census population projections for states and UTs.