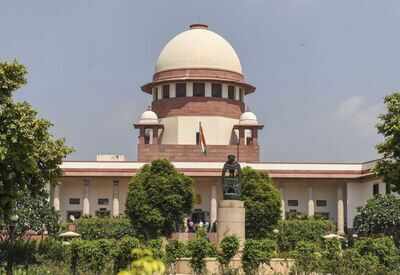 NEW DELHI: Nine months after the pandemic forced it to switch to virtual hearing, there seems to be little prospect of Supreme Court shortly resuming physical hearing taking up in any form the adjudication of weightier constitutional issues raised in petitions challenging the revocation of the special status of J&K and enactment of Citizenship Amendment Act.
The SC's precautionary switch to virtual hearing through video conferencing from March 25 to prevent its packed courtrooms and corridors from becoming super-spreaders of Covid-19, did not shield its 1,000-odd strong staff, who prepare the case files for judges and are crucial to physical or virtual hearing, from the virus. Almost 50% of the staff, 506 to be precise, have so far been infected by the virus. Several others had to quarrantine themselves as their family members, 178 in all, tested positive. The depleted staff put in extra hours to steadily increase listing of cases daily before benches from 200-odd in July to over 400 by November-December. Judges too suffered, with six of them catching the virus.
During pandemic, eight five-judge constitution benches decided six matters through virtual hearing. But listing of matters like challenge to abrogation of Article 370, scrapping of special status to J&K and its division into two UTs and the CAA either through virtual or physical hearing will prove to be a huge logistical challenge. Taking up these two issues (J&K matter has 22 writ petitions while CAA has 144 petitions) through virtual hearing would require SC to furnish video links to several lawyers. Virtual hearings are ill-suited for matters like J&K and CAA which require seamless arguments and impromptu expression of views, many senior advocates said.

FacebookTwitterLinkedinEMail