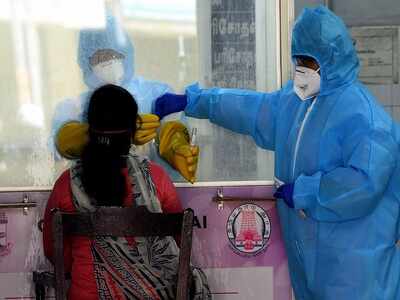 NEW DELHI: With the sudden spike of over 2,003 deaths in one day, India's Covid-19 death rate has risen to 3.36% now from 2.82% reported by the health ministry around a fortnight ago (on June 2).
India's fatality rate is, however, still lower than the global death rate of over 5%, even as officials say more states are likely to reconcile figures of deceased retrospectively following death audits. The big jump in the death toll in just one day was due to Maharashtra and Delhi updating the number with earlier unreported deaths.
For instance, Maharashtra reported 1,409 deaths on Tuesday, of which only 81 occurred on the single day and rest were on account of retrospective reconciliation of death figures taking total death toll in the state to 5,537 or a little less than half of the total for India.
Similarly, in Delhi, 437 new Covid-19 deaths were added on Tuesday, but only 93 took place over the 24 hours. The other 344 took place across June, and a few even earlier.
The two states, along with a few others added a total of 2,003 new deaths to the country's total toll on Tuesday taking cumulative number of deaths so far to 11,903 and fatality rate to 3.36% when calculated against 3,54,065 confirmed cases recorded till Tuesday.
Even till a day ago, the death rate was 2.8% with 9,900 deaths recorded from across the country against 3,43,078 confirmed cases.
Official sources said similar death audits are going on in some other states too and the fatality rate may see further revision if similar "missing deaths" are accounted for.
This assumes significance as the Centre has constantly been emphasising on effective clinical management of Covid-19 cases to reduce number of deaths. It has also asked states to focus on timely detection and testing and upgrade health infrastructure to ensure deaths can be avoided.
So far, the government has pointed to a low fatality rate as compared to the world average. However, with such sudden spurt in the death toll, the fatality rate is likely to be impacted.
Of late, India has witnessed an improvement in recovery rate. According to health ministry, 1,86,934 cases have been cured so far taking the recovery rate to 52.8%, whereas 1,55,227 are active cases under clinical supervision.