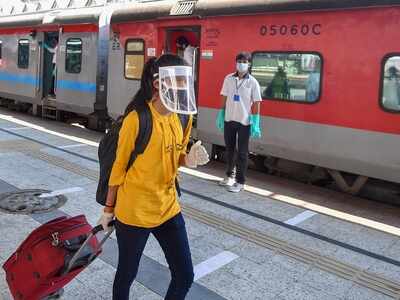 Representative image
NEW DELHI: Special Rajdhani and mail/express trains are witnessing lower-than-normal occupancy due to one-way reservations as people avoid discretionary or business trips because of Corona curbs imposed by state governments.
According to the booking trend on these trains for the first week of this month, the Rajdhanis have shown an occupancy rate of 62% with 1,07,647 passenger reservations. Mail/express trains fared a little better at 67% occupancy with over 12 lakh bookings for the June 1-7 period.
The Railways are running 15 pairs of Special Rajdhanis and 100 pairs of Special mail/express trains. The booking trend indicates people continue going back to their home towns or families.
The occupancy rate for short-distance trains has also dropped people are still largely reluctant to travel, even though much of the lockdown restrictions have been eased.
Some 38 of these special trains originated from Delhi, the highest among the states. Maharashtra saw 28 trains setting off from its stations, followed by Bihar at 24. UP and Bihar were next with 19 and 17, respectively. About 10 specials originated from Gujarat, nine each from Karnataka and Rajasthan, eight from Punjab and seven from Telengana.
The special Rajdhanis were started by the railways on May 12 for carrying stranded people between major cities, including Delhi.