NEW DELHI: India became the second country after the US to cross seven million confirmed Covid-19 cases on Saturday. It also recorded its six millionth recovery on the day and the ninth consecutive day of decline in active cases.
Daily cases have remained below the 80,000 mark for the eighth consecutive day. On Saturday India recorded 74,205 cases (with data for Jammu and Kashmir yet to come in at the time of going to press) while active cases remained below nine lakh for the second consecutive day.
Saturday also marked eight consecutive days of deaths remaining below the 1,000-mark. With 917 fresh casualties on Saturday — the lowest in the last five days — India's cumulative toll reached 108,305 deaths so far. Among states, Kerala reported the highest number of cases on Saturday adding 11,755 new cases.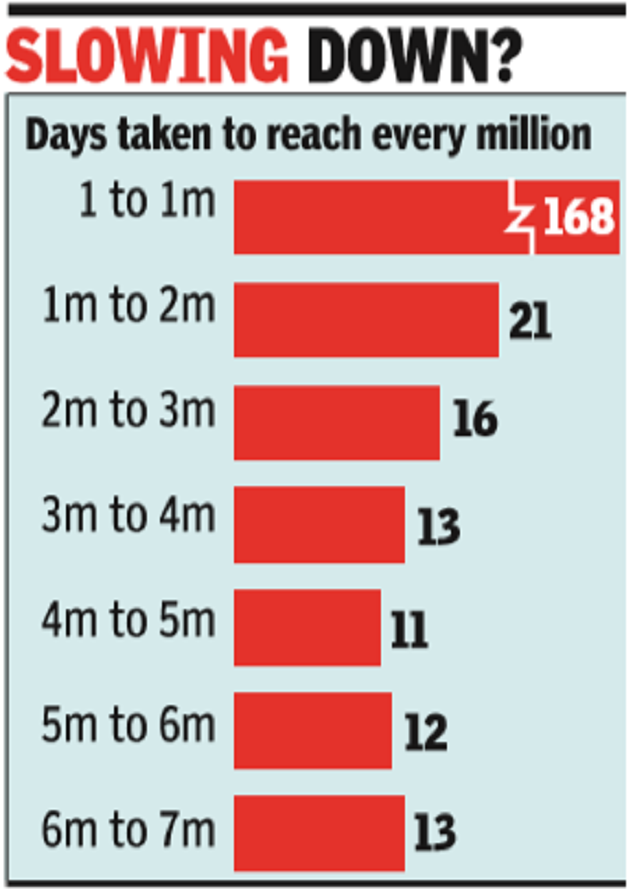 Maharashtra reported 11,416 fresh cases while Karnataka added 10,513 cases, these being the three states that reported 10,000 plus cases on Saturday.
Orissa reported its 1,000th Covid death on Saturday, the sixteenth state to cross this mark. With 978 deaths reported so far, Kerala's toll is set to breach a 1,000 deaths soon. Apart from Kerala, Bihar, Assam and Jharkhand are the only large states that have reported less than 1,000 deaths so far.
More on Covid-19
While daily cases in Kerala continue to grow, the situation is improving in Maharashtra, the state that has so far reported the highest number of confirmed cases as well as fatalities. For the eighth day in a row, it reported less than 15,000 cases.
So far, four states have reported over half a million Covid-19 cases. Among them, daily cases have remained above 10,000 in Maharashtra and Karnataka, while Tamil Nadu and Andhra Pradesh have managed to reduce their daily case additions to just over 5,000. With three deaths for every 100 infections, the case fatality rate (CFR) is highest in Punjab.
The CFR for both Gujarat and Maharashtra is between 2-3% while for all other states the fatality rate has remained below 2% and had dropped to 1.5% nationally.