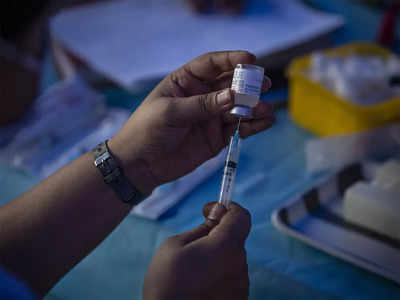 HYDERABAD: Covaxin output is all set to be ramped up from 5.5 crore doses in October to 3.5 crore doses in September, Bharat Biotech's chairman & managing director Dr. Krishna Ella said on Tuesday.
"We are supplying 3.5 crores (doses) this month and next month we will definitely be supplying 55 million doses," Ella said here on the sidelines of a two-day conference organised by the Union ministry of commerce & industry, DGFT, Telangana government and Pharmexcil to commemorate 75 years of independence.
Pointing out that production at the Biovet facility in Bengaluru is catching up very fast, Ella said that output from Bengaluru will increase from October as the company had got the licence only one week back for one facility. Bharat Biotech has repurposed the animal vaccine manufacturing plant of its affiliate Biovet at Bengaluru to manufacture Covaxin.
"We have two facilities in Bengaluru. One is fully ramped up and we are already producing 2-2.5 crore doses from there. The second started and will be (producing from) next month...," Ella said.
According to Ella, the company is currently producing almost 30 million doses in Hyderabad, including the drug substance supplied by Indian Immunologicals Ltd (IIL). He said Covaxin output could reach 100 million doses by the end of the year with the help of its four partners – IIL, Haffkine Institute, Bibcol and Hester Lifesciences.
Bharat Biotech's Chiron Behring anti-rabies manufacturing plant at Ankleshwar has already rolled out commercial batches of Covaxin that will be available for supplies from this month.
On exports, he said the company was ready to export Covaxin doses if the government allowed, but pointed out that currently, the Centre is focusing on the domestic market.

FacebookTwitterLinkedinEMail