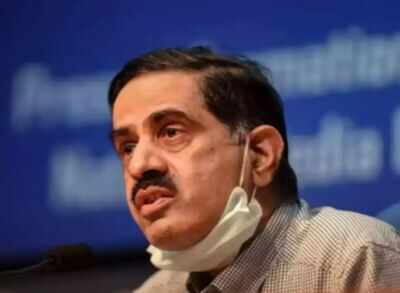 Dr Balram Bhargava (File photo)
NEW DELHI: The Indian Council of Medical Research (ICMR) director general Dr Balram Bhargava refuted claims that phase 3 trial data for Bharat Biotech's Covaxin shot was not evaluated, saying the emergency use authorisation (EUA) was given after meticulous review of data of 22,500 persons which established safety of the shots.
"The phase 3 data has been completed for 22,500 patients and the safety was fully established. That has been submitted and the full trial of 25,800 persons will be completed in a week's time," Bhargava said, underlining that by the time the vaccination programme is launched, the Phase 3 trial for Covaxin will be concluded and final set of data will also be available.
Health minister Harsh Vardhan also strongly backed the Covaxin shot, saying "For those spreading rumours let it be known that EUA for Covaxin is differently conditional - in clinical trial mode" He explained this means its use will be in "clinical trial mode" where all recipients are monitored as if they are in trial. "This approval ensures India has an additional vaccine shield in its arsenal especially against potential mutant strains... A strategic decision for our vaccine security," he said.
AIIMS director Dr Randeep Guleria told ANI that the shot "can also be used as a backup when we're not sure how efficacious the Serum Institute vaccine is going to be."
Bhargava said "The immunogenicity is 98% and we have had no cases of Covid in the phase 1 or phase 2 and the animal studies and challenge studies have shown full efficacy compared to any other vaccine in the world."
On Sunday, Drugs Controller General of India (DCGI) V G Somani announced a final approval for restricted emergency use for Serum Institute of India's Covishield as well as Covaxin - which was developed in collaboration with ICMR.
An official statement on Sunday said, "The Phase III efficacy trial was initiated in India in 25,800 volunteers and till date, ~22,500 participants have been vaccinated across the country and the vaccine has been found to be safe as per the data available till date."
"The subject expert committee has reviewed the data on safety and immunogenicity of the vaccine and recommended grant of permission for restricted use in emergency situation in public interest as an abundant precaution, in clinical trial mode, to have more options for vaccination, especially in case of infection by mutant strains. The clinical trial ongoing in the country by the firm will continue," Somani said while detailing the approval criteria for Covaxin. The reference to mutant strains is based on the assessment that vaccines based on whole virus or deactivated virus methods are better equipped to deal with a range of virus mutations.
Bhargava said all vaccines approved globally are for emergency use including those by Pfizer, Moderna and the Oxford vaccine. "We are dealing with a world war...so at this point we have to look at what is going to be beneficial for society at large and these are not full approvals at all - neither Covishield nor Covaxin."
Dr Guleria said the shots are first generation vaccines and it is quite natural that as long term studies emerge, the efficacy and immunogenicity are likely to improve. The vaccines are also under rolling reviews with the regulator continuously evaluating data from trials, a health ministry official said.

FacebookTwitterLinkedinEMail