TIMESOFINDIA.COM | Aug 12, 2020, 20:08 IST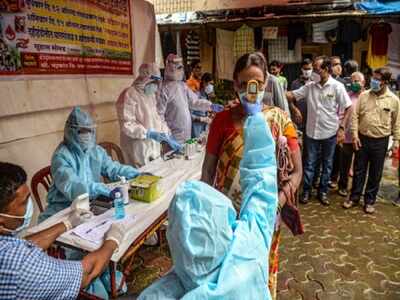 NEW DELHI: India's Covid-19 recovery rate soared past 70 per cent on Wednesday with 16,39,599 people having recuperated from the disease so far in the country, while active cases comprise 27.64 pc of the total caseload, the Union health ministry said.
The case fatality rate in the country has further declined to 1.98 per cent, the ministry said.
Here are the top developments:
1
India The highest single-day recoveries at 56,110 are the result of the successful implementation of effective containment strategy, aggressive and comprehensive testing coupled with standardised clinical management of the critical patients based on holistic standard of care approach, the health ministry said. The coordinated efforts of the central, state and UT governments have resulted in continuously increasing average daily recoveries, it said. There are 6,43,948 active cases of coronavirus which is "actual caseload" of Covid-19 in the country and currently comprise 27.64 per cent of the total positive cases. India's Covid-19 tally went past 23 lakh on Wednesday with a single-day increase of 60,963 infections, while 834 new fatalities, reported in a span of 24 hours, pushed the death toll to 46,091, data showed. Union minister Shripad Y Naik on Wednesday said he has tested positive for coronavirus infection and has opted for home isolation. The minister of state for Ayush and defence said he opted for self-isolation as he is asymptomatic and added his vitals are within normal limits. Rajasthan Royals' fielding coach Dishant Yagnik has tested positive for Covid-19, the IPL franchise announced on Wednesday, days before leaving for the UAE to take part in the lucrative league. A national expert group on vaccine administration for Covid-19 met for the first time on Wednesday and delved on the procurement mechanisms for the vaccine, including both indigenous and international manufacturing along with guiding principles for prioritization of population groups for vaccination. The meeting was chaired by Dr V K Paul, member Niti Aayog along with secretary (ministry of health) as co-chair. The committee also advised all the states not to chart separate pathways of procurement, according to the health ministry. Trade across the India- Bhutan border through Jaigaon in West Bengal's Alipurduar district has been suspended following the imposition of a coronavirus-induced lockdown in the Himalayan kingdom, an official said on Wednesday.
2
States Puducherry: Former local administration minister of Puducherry A Elumalai succumbed to Covid-19 in centrally administered JIPMER on Wednesday. Elumalai (53) had tested positive for the infection and was admitted to JIPMER on Tuesday, Director of Health and Family Welfare S Mohan Kumar said. Maharashtra: The Maharashtra government has reduced by Rs 300 the rates of Covid-19 tests conducted by laboratories, bringing them in the range of Rs 1,900 to Rs 2,500. The maximum charges for testing now stand at Rs 1,900, Rs 2,200 and Rs 2,500. No laboratory can charge above these prescribed rates. Mizoram: Twenty-five more people, including five BSF personnel, have tested positive for Covid-19 in Mizoram, taking the northeastern state's virus count to 648. Aizawl and Kolasib districts reported 10 cases each while Lunglei registered five fresh infections. Odisha: The Odisha government slightly modified its earlier order on weekend shutdown in four districts and relaxed norms to allow people to unfurl the national flag on August 15. The fresh notification said that people can unfurl the national flag in the four districts of Ganjam, Khurda, Gajapati and Cuttack and Rourkela city till 11 am on Independence Day. Delhi: Delhi recorded 1,113 fresh coronavirus cases, taking the caseload to over 1.48 lakh, while the death toll has risen to 4,153, authorities said. 18,894 samples were tested for Covid-19 in the last 24 hours, of which 6,472 were RT-PCR tests and 12,422 rapid antigen tests. UP: Uttar Pradesh reported 4,475 new Covid-19 cases, while 54 more people died in the last 24 hours due to the disease. The total number of cases in the state now stands at 1,36,238 and fatalities at 2,230. Meghalaya: Twenty-three more people, including 18 BSF personnel, tested positive for Covid-19 in Meghalaya, raising the state's tally to 1,165, an official said. Of the fresh cases, 11 were reported from East Khasi Hills, 10 from West Garo and one each from North and South Garo hills districts. Goa: For the first time since the Covid-19 outbreak in Goa, four private hospitals in the coastal state have agreed to treat patients, CM Pramod Sawant said. These hospitals would be in addition to the existing two Covid-19 hospitals set up by the state government. Chhattisgarh: A 65-year-old Covid-19 patient undergoing treatment at the All India Institute of Medical Sciences allegedly committed suicide by jumping off the second floor of the building in Chhattisgarh's capital Raipur, police said. Arunachal: Ninety-six more people, including 61 security personnel, have tested positive for Covid-19 in Arunachal Pradesh, taking the northeastern state's caseload to 2,327. The northeastern state has reported 845 fresh Covid-19 cases in August so far. Telangana: Telangana continued to see an increase in Covid-19 cases with nine more fatalities and 1,897 new cases being reported, taking the total number of people infected by the virus in the state to 84,544.
3
World The novel coronavirus has killed at least 743,199 people since the outbreak emerged in China last December. At least 20,382,260 cases have been registered in 196 countries and territories. The Pan American Health Organization has expressed reservations over reports that institutions in the region were negotiating to manufacture and distribute a new Covid-19 vaccine announced by Russia that has yet to go through standard, extensive safety and efficacy trials. The organisation's deputy director, Jarbas Barbosa, said that any vaccine should be carefully evaluated to ensure the product is safe and effective. The first batch of the Russian vaccine against Covid-19 is expected to be released within two weeks, health minister Mikhail Murashko said on Wednesday. On Tuesday, the Russian health ministry registered the first coronavirus vaccine in the world. The United States is the worst-hit country with 164,545 fatalities from 5,141,879 cases. At least 1,714,960 people have been declared recovered. The Nepal government has given local administrations the authority to decide on restrictions and lockdown measures as the country's coronavirus tally on Wednesday jumped to 24,432 with 484 new cases. Pakistan reported 730 new coronavirus cases, taking the total number of Covid-19 infections in the country to 285,921. The death toll rose to 6,129 after 17 more people died overnight. Singapore reported 42 new coronavirus cases, the lowest daily infection count in over four months, taking the total number of Covid-19 cases in the country to 55,395. Among the new cases, 11 are imported infections who were placed on stay-home notice. Australia's death toll due to Covid-19 crossed 350 after it recorded its highest single day spike of 21 new fatalities, while the number of coronavirus cases jumped to 22,127 with 428 fresh infections detected in the country. All the new deaths were reported in Victoria.
more from times of india news