TIMESOFINDIA.COM | Aug 11, 2020, 21:31 IST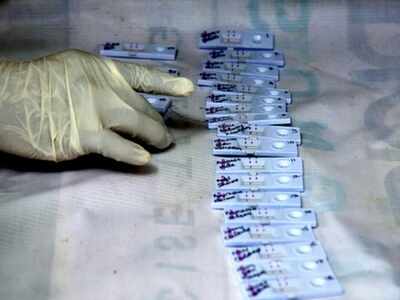 NEW DELHI: Prime Minister Narendra Modi noted on Tuesday that 10 states account for over 80 per cent of active Covid-19 cases, and asserted if the virus is defeated in these states, then the country will also emerge victorious in its fight against the pandemic.
At a video conference with chief ministers and representatives of these 10 states, including Bihar, Uttar Pradesh, Punjab, Andhra Pradesh, Maharashtra and Tamil Nadu, Modi said the recovery rate has gone up which, he added, meant that government efforts have proved to be effective.
Here are the top developments:
1
India The Union health ministry on Tuesday said states should not get overawed by a "mere increase" in daily positive cases of Covid-19 and should keep pursuing the policy of aggressive testing, comprehensive tracing and tracking and efficient treatment of cases. Addressing a press briefing, health ministry secretary Rajesh Bhushan said the active cases of Covid-19, which comprised 88.83 per cent of the total caseload on March 31, have reduced to 28.21 per cent as on date. Of the total active cases of Covid-19, less than 1 per cent of patients are on ventilator, less than 3 per cent of the people are on oxygen support and less than 4 per cent of the people are in ICU, he said. Bhushan said the Covid-19 case fatality rate fell below 2 per cent and presently stands at 1.99 per cent, the lowest since the first lockdown, and is declining. The national recovery rate has risen to 69.80 per cent due to effective and prompt clinical management of Covid-19 cases. For the past seven days, India's single-day count of Covid-19 cases has been more than that of the US and Brazil, the two worst-hit nations in terms of infections, according to an analysis of WHO data. India, the third worst-hit nation in terms of infections, has also accounted for over 23 per cent of the cases and more than 15 per cent of the deaths reported worldwide between August 4-10, the data shows. Famous Urdu poet Rahat Indori, whose powerful and lucid poetry filled halls and connected with the young and old alike, died of a heart attack at a hospital In Indore on Tuesday while being treated for Covid-19, his son said. He was 70. The teacher-turned-poet had been admitted to hospital on Tuesday morning after he tested positive for the disease. The Railways has stated that all regular passenger train services will remain suspended till further notice, but 230 special trains will continue to be in service. Earlier, the national transporter had suspended all services till August 12.
2
States Madhya Pradesh: Chief minister Shivraj Singh Chouhan said he has tested negative for coronavirus infection, six days after being discharged from a private hospital in Bhopal. Chouhan, 61, had tested positive for coronavirus infection on July 25. West Bengal: Suspension of passenger flights to Kolkata from six metros with high prevalence of Covid-19 cases has been extended till August 31. Earlier, the temporary restriction on the arrival of flights to Kolkata airport from Delhi, Mumbai, Pune, Chennai, Nagpur and Ahmedabad was extended till August 15. Delhi: The national capital recorded 1,257 fresh coronavirus cases, and eight deaths, the lowest in over two months, in the last 24 hours. This is the first time in over two months that the daily number of deaths has dropped below 10. Kerala: Kerala continued to witness a spike in Covid-19 infections reporting 1,417 cases, including 36 health workers, as the death toll climbed to 120 with five more fatalities. As many as 1,426 people recovered from the infection today. Punjab: Punjab reported a record 32 fatalities due to Covid-19, pushing the death toll to 636, while 1,002 fresh cases took the state's infection tally to 25,889. There are 8,463 active Covid-19 cases in the state. Odisha: Ruling Biju Janata Dal MLA and editor of Odia daily 'Sambad' S R Patnaik tested positive for Covid-19. Patnaik, the BJD MLA from Khandapada in Nayagarh district, in his Twitter post informed about him being detected as Covid-19 positive. Nagaland: Nagaland's Covid-19 tally rose to 3,031 as 20 more people tested positive for the infection, health officials said. Ten new cases were detected in Kohima district, nine in Dimapur and one in Tuensang. Karnataka: Over one lakh Covid-19 patients have been discharged so far after recovery in Karnataka, as the state reported 6,257 new cases and 86 fatalities. The total number of infections now stood at 1,88,611 and death toll was 3,398. UP: Chief minister Yogi Adityanath requested Prime Minister Narendra Modi to continue the arrangement for providing RTPCR test kits and other Covid-related equipment for use. The CM also sought the Centre's support for purchasing HFNC equipment, used in giving high flow nasal oxygen to patients. Sikkim: Sikkim reported three new Covid-19 cases, taking the Himalayan state's tally to 913. Of the total 913 Covid-19 cases, 378 are active as 534 patients have been cured of the disease. J&K: Jammu and Kashmir recorded 564 new coronavirus cases, taking the caseload to 25,931, while 12 patients died due to the disease in the last 24 hours. Ten deaths were reported in the Kashmir valley, while two patients died in the Jammu region. Tamil Nadu: Tamil Nadu reported 5,834 fresh Covid cases, taking the tally to 3,08,649, while 118 fatalities pushed the death toll to 5,159. Active cases stood at 52,810 with 6,005 discharges from various hospitals and in total 2,50,680 patients have recovered. Mizoram: The Raj Bhavan in Aizawl is open for those in need of shelter or assistance due to the Covid-19 outbreak, Mizoram governor P S Sreedharan Pillai said. A state-wide partial lockdown is in force till August 31. HP: A 78-year-old woman died of Covid-19 in Himachal Pradesh's Mandi district, raising the death toll due to the disease to 17. The hilly state also reported 18 fresh infections, taking the Covid-19 case tally to 3,482. Bihar: Chief minister Nitish Kumar told PM Modi that the state plans to raise testing rate for Covid-19 to over one lakh per day. Kumar said the state was at present testing more than 75,000 samples daily though the number of RT-PCR examinations, which he called "the most important", remained as low as about 6100 per day. Andhra Pradesh: Andhra Pradesh's Covid-19 tally went up to 2,44,549 as 9,024 fresh cases were added, while 87 more deaths pushed the overall toll to 2,203. Telangana: A 60-year old man undergoing treatment for Covid-19 in a private hospital in Hyderabad allegedly ended his life out of fear about the disease, police said. The man from Karimnagar district hanged himself in the washroom attached to his room in the hospital between 1 am and 2 am, a police official said. Maharashtra: The Maharashtra government is striving to see there is no second wave of Covid-19 in the state, CM Uddhav Thackeray said during a meeting held by PM Modi. Thackeray also said hospitals will be set up in all districts of the state to control the epidemic.
3
World The novel coronavirus has killed at least 736,828 people since the outbreak emerged in China last December. At least 20,122,700 cases of coronavirus have been registered in 196 countries and territories. President Vladimir Putin announced that Russia has developed the world's first vaccine against Covid-19 that works "quite effectively" and forms a "stable immunity" against the disease as he disclosed that one of his daughters has already been vaccinated. Putin's claim has come amidst concerns raised by experts about the speed of Russia's work, suggesting that researchers might be cutting corners. New Zealand's dream run of 102 days without locally transmitted coronavirus ended on Tuesday, prompting a stay-at-home lockdown order for the country's largest city. After receiving global praise for successfully containing the virus, PM Jacinda Ardern said four cases had been detected in a single family in Auckland from an unknown source. The United States is the worst-hit country with 163,465 deaths from 5,094,565 cases. At least 1,670,755 people have been declared recovered. Nepal has decided to halve the number of designated entry points for Indian nationals to 10 from the existing 20 and extended the suspension of domestic and international flights until August 31 due to the spike in coronavirus cases. A Cabinet meeting held on Monday evening made the decisions on the recommendations made by the Covid-19 Crisis Management Centre. Pakistan claimed "success" against the coronavirus pandemic, saying the virus outbreak was controlled in the country due to "concrete measures" taken by the government through its trace, test and quarantine (TTQ) strategy and "smart lockdown" policy. Pakistan has recorded 285,620 coronavirus cases and 6,120 fatalities due to Covid-19 so far. Australia reported 354 new coronavirus cases and 19 deaths, taking the number of Covid-19 cases in the country to 21,714 and the death toll to 331. Presently, there are 8,669 active cases in the country. The number of confirmed Covid-19 cases in Bangladesh reached 263,503 as nearly 3,000 new cases were confirmed in the last 24 hours. 2,996 new Covid-19 positive cases and 33 deaths were reported in the last 24 hours across Bangladesh.
more from times of india news