TIMESOFINDIA.COM | Jun 11, 2020, 19:56 IST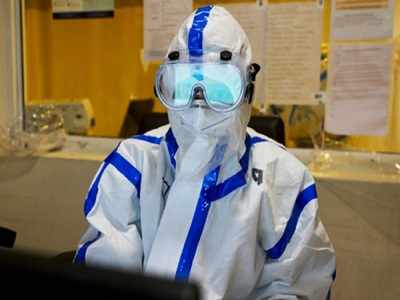 NEW DELHI: India's first sero-survey on Covid-19 spread has found that lockdown and containment measures were successful in preventing a rapid rise in infections, but a large proportion of the population still remains susceptible, the government said on Thursday, asserting that the country is not in the community transmission stage. The death toll due to Covid-19 rose to 8,102 and the number of cases climbed to 2,86,579 in the country after it registered the highest single-day spike of 357 fatalities and 9,996 cases till Thursday, according to the Union health ministry.
Here are the top developments:
1
India
Indian Council of Medical Research director general Balram Bhargava said the sero-survey has found that 0.73 per cent of the population in the districts surveyed had evidence of past exposure to SARS-CoV-2.
Bhargava said the lockdown and containment (measures) have been successful in keeping it low and preventing rapid spread, citing the survey. However, it means that a large proportion of the population is still susceptible and risk is higher in urban areas (1.09 times) and urban slums (1.89 times) than rural areas.
The survey found that infection fatality rate is very low at 0.08 per cent and infection in containment zones were found to be high with significant variations, but the survey is still ongoing, he said.
Insisting that the Covid-19 crisis should be turned into an opportunity to create an 'Atmanirbhar Bharat', Prime Minister Narendra Modi said this is the time to make bold decisions and investments.
The historic Jama Masjid will be closed for devotees with immediate effect till June 30 in view of "critical" conditions in Delhi due to a surge in Covid-19 cases, the mosque's Shahi Imam Syed Ahmed Bukhari said.
Anti-viral drug remdesivir and tocilizumab, an immunomodulator, are being considered for "restricted use" on severely ill Covid-19 patients on "emergency and compassionate grounds", according to revised clinical management guidelines to be released soon.
Two more railway officials tested positive for coronavirus at Rail Bhavan, taking the total number of cases detected so far in the building to 18, officials said.
Quick service restaurant chain McDonald's said it has resumed dine-in facility in 50 outlets so far in the north and east regions.
2
States UP: Uttar Pradesh reported 24 more coronavirus deaths and 478 new cases, the biggest single-day spike in both numbers so far as the state battles a Covid-19 surge. The death toll in the state now is 345 after 3 consecutive days of record highs with the coronavirus tally reaching 12,088. Odisha: The night curfew imposed by the Odisha government will be relaxed for a few hours on Friday to let people go shopping for the upcoming three-day Raja festival, an official said. Tamil Nadu: The state reported 1,875 fresh coronavirus cases and 23 deaths, taking the tally to 38,716 and fatalities to 349. Andaman and Nicobar Islands: Three more persons tested positive for novel coronavirus in Andaman and Nicobar Islands, taking the total count of confirmed cases in the Union territory to five. Rajasthan: The state reported five more Covid-19 deaths, taking their number to 264 as 51 new cases of the infection surfaced in the state. With this, the total number of confirmed cases in the state climbs to 11,651. Delhi: There have been complaints of non-availability of beds or denial of treatment to Covid-19 patients in the national capital despite nearly 70 per cent of beds in five designated hospitals run by the Delhi government lying vacant, with experts attributing it to people's aversion towards state-run facilities. As per the latest information on 'Delhi Corona' app, more than 3,000 beds are lying vacant in these five dedicated Covid-19 hospitals. Assam: At least 34 more Covid-19 cases were reported in Assam, taking the tally in the state to 3,319. Meghalaya: Five Covid-19 infected persons in Meghalaya have recovered, increasing the number of those who recovered to 18. Andhra Pradesh: The state reported 182 fresh Covid-19 cases in the last 24 hours as the overall tally in the state rose to 5,429 while two more deaths were also reported, taking the toll to 80. Uttarakhand: The state's Covid-19 tally mounted to 1,637, with 75 more people testing positive for the virus. Kerala: Five health workers are among the 83 people who tested positive for coronavirus in Kerala while one more death was reported, taking the state's infection count to 2,224 and the toll to 18. Maharashtra: Chief minister Uddhav Thackeray said that the state government has succeeded in setting up adequate number of health care facilities for treatment of Covid-19 patients in a short span. J&K: A 62-year-old woman from Kulgam district of Jammu and Kashmir, who had tested positive for Covid-19, died at a hospital, taking the number of coronavirus-related fatalities in the Union territory to 52. Karnataka: The state reported 204 new cases of Covid-19 and three related fatalities, taking the total number of infections in the state to 6,245 and the toll to 72. Nagaland: Two more persons have tested positive for Covid-19 in Nagaland, taking the state's tally to 130. Punjab: Chief minister Amarinder Singh ordered stricter lockdown on weekends and public holidays, amid apprehension about the community spread of Covid-19. Puducherry: Twelve more active Covid-19 cases have been reported while two patients died of the infection here in the last 24 hours. Up till now, the total number of Covid-19 cases were 157. Mizoram: With the detection of nine Covid-19 positive cases in Mizoram, the number of active cases has crossed the 100-mark in the northeastern state. Manipur: At least 31 more people have tested positive for Covid-19 in Manipur, taking the state's total tally to 342. HP: Seven people tested positive for the novel coronavirus in Himachal Pradesh, taking the total number of Covid-19 cases in the state to 459.
3
World Scientists have found that seven out of 27 Covid-19 diagnostic tests which are currently in use may be underperforming possibly due to the novel coronavirus mutating, and have cautioned that the effectiveness of testing methods needs to be re-evaluated. The novel coronavirus has killed at least 416,343 people since the outbreak emerged in China last December. At least 7,383,140 cases of coronavirus have been registered in 196 countries and territories. The United States is the worst-hit country with 112,924 deaths from 2,000,464 cases. At least 533,504 people have been declared recovered. China has reported 16 new coronavirus cases, including the first confirmed case in Beijing after 56 days. The capital had no new coronavirus case for 56 consecutive days. The European Union announced plans to ease a ban on non-essential travel to the continent, with foreign students, non-EU nationals who normally live in Europe and certain highly skilled workers likely to be exempt from the coronavirus restrictions from July 1. Russia's coronavirus caseload surpassed 500,000, after health officials reported 8,779 new infections. The nation's total currently stands at 502,436 confirmed cases, including 6,532 deaths. Singapore reported 422 new coronavirus cases, majority of them foreign workers living in dormitories, taking the total number of infections in the country to 39,387. Turkey has restarted international flights for the first time since planes were grounded on March 28 to stem the coronavirus pandemic. Ukraine said there had been an "alarming" rise in coronavirus cases after a daily record of 689 new infections were reported as the country eases lockdown measures. Cases have surged in Ukraine in recent days, with the total now reaching more than 29,000. More than 180,000 people have been infected in Iran's coronavirus outbreak since it first emerged nearly four months ago. As the figures were announced, President Hassan Rouhani called on Iranians to stick to guidelines aimed at stopping the spread of Covid-19.
more from times of india news