TIMESOFINDIA.COM | Updated: Jul 11, 2020, 20:35 IST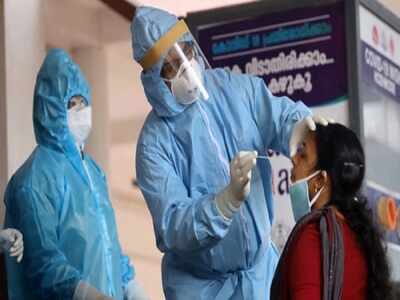 NEW DELHI: Prime Minister Narendra Modi on Saturday appreciated the efforts of the Centre, state and the local authorities in containing the COVID-19 situation in Delhi, and directed that a similar approach be replicated in checking the pandemic in the entire NCR area.
"Priority is close monitoring and guiding the containment works in regions where the infection rate is high," the Prime Minister said after holding a review meeting to take stock of the COVID-19 situation in various parts of the country and the preparedness of various states.
Here are the top developments:
1
India According to a statement issued by the Prime minister's Office, Modi also directed that real-time national level monitoring and guidance should be provided to all affected states and places with high test positivity rates. The PM reiterated the need to observe personal hygiene and social discipline in public places. With a record single-day increase of 27,114 cases, India's COVID-19 tally zoomed past the eight-lakh mark on Saturday, just four days after crossing the seven-lakh post, according to the Union health ministry data. The total coronavirus caseload in the country surged to 8,20,916 while the death toll climbed to 22,123 with 519 people succumbing to the disease in 24 hours, the updated data at 8 am showed. The number of COVID-19 patients who have recovered in the country crossed the five-lakh mark on Saturday, the Union health ministry said and attributed it to a number of measures taken by the Centre and the state governments, including implementation of containment zones and surveillance activities. A total of 5,15,385 COVID-19 patients have recovered so far with 19,870 COVID-19 patients having been cured and discharged in the last 24 hours till 8am. According to the Indian Council of Medical Research, a cumulative total of 1,13,07,002 swab samples have been tested for COVID-19 up to July 10, of which 2,82,511 been tested on Friday. Biotechnology major Biocon announced that its "breakthrough drug," Itolizumab has received Drugs Controller General of India's approval for its use in moderate to severe COVID-19 patients. DCGI has approved to market Itolizumab (ALZUMAb) injection 25mg and 5mL solution for emergency use in India for the treatment of cytokine release syndrome in moderate to severe ARDS (acute respiratory distress syndrome) patients due to COVID-19, Biocon said in a release. Dubai-based Emirates airline will operate special repatriation flights to five Indian cities between July 12 and 26 to assist stranded Indians get home and for residents of the UAE currently in India to return to the Gulf country. The flights will be operated to Bengaluru, Delhi, Kochi, Mumbai and Thiruvananthapuram, the airline said in a statement on Saturday.
2
States Karnataka: A complete lockdown was announced in Bengaluru Urban and Rural districts from 8pm on July 14 to 5am on July 22 in view of the rising Covid-19 cases. Only essential services will be exempted. Meghalaya: The Meghalaya government announced a two-day total lockdown in capital Shillong from Monday after the state reported the highest single-day spike of 76 COVID-19 cases. Delhi: Delhi government has decided to cancel all forthcoming semester and final exams of universities under it due to the COVID-19 situation, deputy chief minister Manish Sisodia said. Sisodia said these state universities have been asked to promote their students and award them degrees adopting a "progressive method of evaluation". UP: Chief minister Yogi Adityanath said special vigilance has to be maintained in the districts of Kanpur Nagar, Jhansi, and Mathura in view of the COVID-19 outbreak. He directed that a special secretary-rank officer, an officer of the Health department, and a senior officer of the Medical Education department be tasked with preparing a strategy to control the spread of the infection. Tamil Nadu: Tamil Nadu recorded 3,965 fresh COVID-19 cases, taking the infection count to 1,34,226 in the state. 69 people succumbed to the virus, pushing the death toll to 1,898. Chhattisgarh: A 19-year-old boy allegedly committed suicide at a quarantine centre in Chhattisgarh's Surguja district where he was lodged after returning from Raipur. Pradip Kerketta was found hanging from the ceiling in a room at a quarantine centre at his village Kerju. Andhra: Each of the 13 districts in Andhra Pradesh has been reporting fresh cases of coronavirus resulting in a highest single-day spike of 1,813 cases on Saturday, taking the state aggregate to 27,235. J&K: A 55-year-old patient died of coronavirus at a hospital, taking the death toll due to the infection in the Jammu region to 16. West Bengal: At least seven police personnel of Kasba police station here have tested positive for COVID- 19. One sub-inspector (SI), three assistant sub-inspectors (ASIs) and three others have tested positive for the disease. Odisha: Odisha's tally of coronavirus cases rose by 570 to reach 12,526, while five more people succumbed to the disease taking the death toll to 61. Tripura: The COVID-19 tally in Tripura rose to 1,932 after 141 more people tested positive for the virus in the state. There are 545 active cases in the state while 1,372 patients have recovered from the infection. Sikkim: With security personnel comprising a substantial chunk of the COVID-19 cases in Sikkim, the state government has decided to allow only those jawans to enter the Himalayan state who test negative for coronavirus. Uttarakhand: A three-day lockdown was imposed from Saturday in Kashipur in Uttarakhand's Udham Singh Nagar district in view of rising cases of COVID-19. The lockdown which came into effect at 10 am on Saturday will continue till the midnight of July 13. Puducherry: A 74-year old man succumbed to coronavirus in Puducherry taking the toll to 18 while 64 fresh infections were reported pushing the overall tally of cases to 1,337. Goa: The Goa government said it would launch a campaign from July 12 to encourage the recovered COVID-19 patients to donate their plasma for treatment of others in the state. Arunachal: Thirty-three more people, including a two-year-old child, tested positive for COVID-19 in Arunachal Pradesh, taking the state's tally to 335. Rajasthan: Two COVID-19 fatalities and 170 cases were reported in Rajasthan, taking the death toll to 499 and the total caseload to 23,344.
3
World The novel coronavirus has killed at least 560,425 people since the outbreak emerged in China late last year. At least 12,522,050 cases of coronavirus have been registered in 196 countries and territories. UK Prime Minister Boris Johnson has called on the British public to try and start leading more normal lives as the country starts to gradually emerge from the coronavirus lockdown. Addressing People's Prime Minister's Questions on social media, the UK Prime Minister urged people to start going back to work if they can and feel confident to return to shops and restaurants as they begin opening up by following the social distancing guidance. New coronavirus cases have dropped sharply in China, and authorities are turning their attention to concerns that the virus could spread through imported food. Testing has been stepped up on incoming food shipments, and on Friday customs officials said they are halting imports from three Ecuadorian shrimp producers after tests showed the virus present in recent shipments. Nepal's COVID-19 cases jumped to 16,719 after 70 new infections were reported, while three more people succumbed to the coronavirus, taking the number of fatalities to 38. A total of 431 COVID-19 patients have recovered from infection in the last 24 hours. Pakistan's coronavirus tally reached 2,46,351 with the detection of 2,752 new cases in the last 24 hours. The death toll jumped to 5,123 with 65 more fatalities due to the viral infection. South Korea has reported 35 new cases of the coronavirus, bringing its caseload to 13,373 infections and 288 deaths. Singapore's COVID-19 cases reached 45,783 after 170 new infections, including 24 community transmissions, were detected, according to the health ministry. A top health official in South Africa has said that about 50 to 66 per cent of all the adults infected with the COVID-19 disease in the country are asymptomatic, with many infections going undetected. The coronavirus, which first emerged in China's Wuhan city, has claimed 3,860 lives in South Africa with over 2,50,000 confirmed cases.
more from times of india news