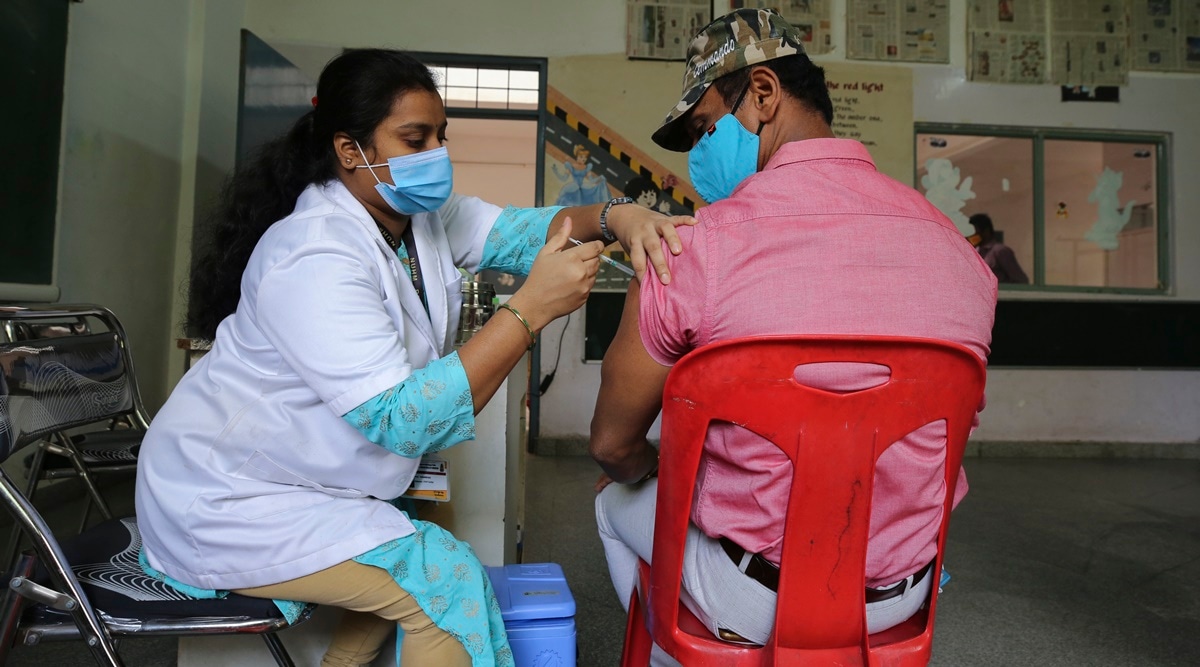 A health worker inoculates a man against the coronavirus at a vaccination camp in the premises of a school in Bengaluru. (AP Photo)
Coronavirus India Live Updates: India reported 80,834 new cases of coronavirus in the last 24 hours, its lowest rise in daily cases since April 1. Tamil Nadu contributed more than 15,000 new cases, while Kerala had close to 14,000. The country's active caseload declined to 10.26 lakh. Over 3,300 deaths were reported on Saturday.
The Goods and Services Tax (GST) Council Saturday cut rates on Covid-related medicines, oxygen concentrators and testing kits, but kept the rate for vaccines unchanged at 5%.
Meanwhile, calling for "global unity, leadership and solidarity", Prime Minister Narendra Modi on Saturday emphasised the "special responsibility of democratic and transparent societies to prevent future pandemics".
Addressing the G-7 outreach session via video conference, Modi also expressed India's commitment to support collective endeavours to improve global health governance.
Live Blog
India reports 80,834 new cases, lowest since April 1. Follow this space for the latest coronavirus updates.
Delhi on Saturday recorded 213 new Covid-19 cases, the lowest in over three months, and 28 fresh fatalities on Saturday, while the positivity rate dipped to 0.30 per cent, according to the health department here. The new fatalities pushed the Covid death toll to 24,800.
India's Covid-19 caseload climbed to 29,359,155 on Saturday after 84,332 new infections were logged in the last 24 hours, according to the Union ministry of health and family welfare. This is the first time in more than two months that the daily cases went below the 90,000-mark. On Friday, 91,702 Covid-19 cases were recorded across the country. Active cases have also come down to 10.80 lakh.
As many as 4,002 people succumbed to the viral disease and 121,311 recovered on Saturday, taking the death toll and recoveries to 367,081 and 27,911,384 respectively.
Meanwhile, The ICMR stated that it will start national-level sero surveys to assess the spread of Covid-19 and all states as well as Union Territories should also be encouraged to conduct them so that information from all geographies can be collected, the Union health ministry said on Friday. The ministry also said that thought the country's coronavirus situation appears to be stabilising, people to continue following the appropriate behaviour and social distancing norms.
The US's Food and Drug Administration has rejected emergency use authorisation for Bharat Biotech's Covaxin vaccine, instead recommending that the vaccine manufacturer's US partner must apply for biologics licence application (BLA). BLA is a "full approval" mechanism by the FDA for drugs and vaccines.