NEW DELHI: In a strongly worded order,
the Central Information Commission
(CIC) issued showcause notice to the ministry of electronics and information technology (MEITY) and National Informatics Centre (
NIC
) to explain why a penalty under the
RTI Act
should not be slapped on them for obstructing information regarding
Aarogya Setu app
, prompting the ministry to later say that all information was on the app's website.
The CIC slammed MEITY and NIC for "prima facie obstruction of information and providing an evasive reply". Noting that none of the CPIOs was able to answer who created the app, Information Commissioner Vanaja N Sarna said MEITY and NIC responses were "extremely preposterous".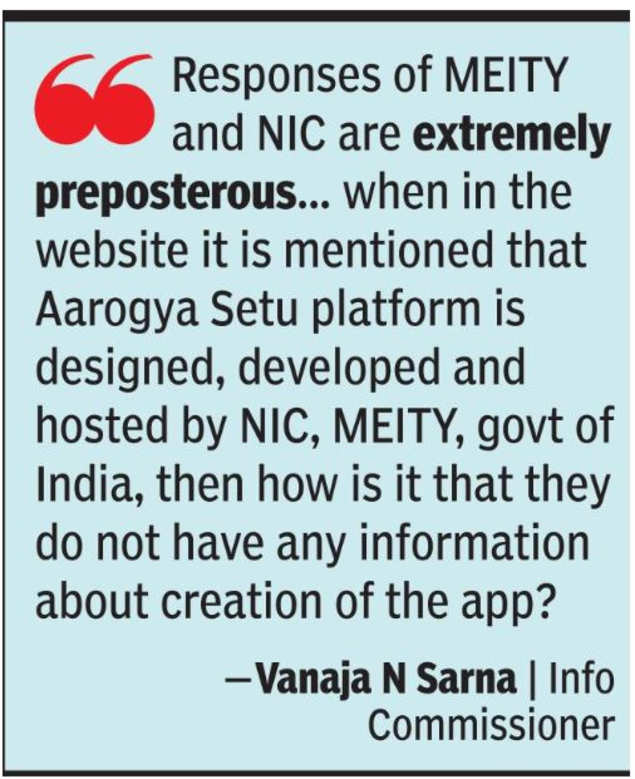 NIC developed Aarogya Setu, volunteers pitched in: Government
An RTI was filed by complainant Saurav Das on who created the app and where are the files.
The ministry of electronics and information technology(MEITY) issued a statement to say that as per orders of the CIC, CPIOs of MEITY,
National E-Governance Division
(
NeGD
) and NIC have been directed to appear on November 24. MEITY is taking necessary steps to comply with the orders of CIC. It clarified that "there should be no doubt with regard to the Aarogya Setu App and its role in helping contain Covid-19 pandemic in India". It stated that the Aarogya Setu App has been developed by NIC in collaboration with volunteers from the industry and academia and all details and documents including privacy policy and data access and knowledge-sharing protocols issued on May 11 have been uploaded on the Aarogya Setu portal — aarogyasetu.gov.in.
The RTI applicant had sought to know from the government details about the creation of Aarogya Setu application, the law under which it is functioning and whether the government was planning to bring a separate legislation on handling of data collected by the App. Saurav Das approached the CIC when he failed to get any information from the authorities.
The CIC in its interim order of October 26 observed that "it is not possible that there was no file movement while creating this App, a citizen cannot go round in circles to find out the custodian". "The CPIO, NIC's submissions that the entire file related to creation of the App is not with NIC is understandable, but the same submissions if accepted from MEITY, NeGD and NIC in toto, it becomes more relevant to now find out how an App was created," the order states.
"The CPIO of NIC should explain that when in the website it is mentioned that Aarogya Setu Platform is designed, developed and hosted by National Informatics Centre, Ministry of Electronics & Information Technology, then how is it that they do not have any information about creation of the App," the information commissioner said.