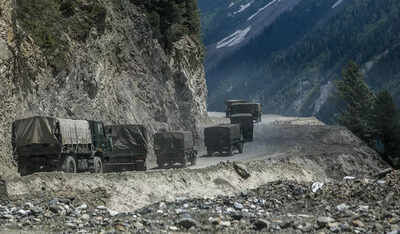 NEW DELHI: Hours before the first in-person Quad summit, India and China were involved in another round of verbal slugfest with both sides blaming each other for the Galwan clash last year and China asserting that a "clique" like Quad was doomed to fail.
After Beijing claimed yet again that the Galwan valley incident took place because India violated all agreements and encroached upon China's territory, India hit back saying it was China's provocative behaviour, including unilateral attempts to change the LAC status quo, that disturbed border peace and tranquility and "impacted" bilateral relations.
The Galwan clash in Ladakh last year left 20 Indian soldiers dead. China too suffered several casualties.
"We reject such statements. Our position with regard to developments last year along the LAC in Eastern Ladakh has been clear and consistent. It was the provocative behavior and unilateral attempts of the Chinese side to alter status quo in contravention of all our bilateral agreements that resulted in serious disturbance of peace and tranquility," said MEA spokesperson Arindam Bagchi in a statement.
Foreign minister S Jaishankar had discussed the situation in eastern Ladakh, where the disengagement process remains incomplete, with his counterpart Wang Yi in a meeting in Dushanbe earlier this month. The MEA recalled that Jaishankar had conveyed to Wang in the meeting that India expected China to work towards early resolution of the remaining issues along the LAC in eastern Ladakh "while fully abiding by bilateral agreements and protocols".
While this wasn't the first time that China blamed India for Galwan, the timing on this occasion is significant as it came just before the Quad summit in the US. While Quad is not a security or military alliance, as both US and India have again clarified this week, and seeks to promote a free, open and transparent Indo-Pacific region, both Beijing and Moscow see it an exercise meant to undermine and contain China.
Responding to a question on the Quad summit, Chinese foreign ministry spokesperson Zhao Lijian said Friday "a closed, exclusive clique targeting other countries runs counter to the trend of the times and the aspirations of regional countries". He added it will find no support and was doomed to fail.
The spokesperson said "relevant countries" should view China's development in correct light and do more to promote solidarity and cooperation among countries in the region.
When asked about the mention of East China Sea and South China Sea disputes by Japan Japanese PM Yoshihide Suga in his meeting with PM Narendra Modi, the spokesperson also slammed Japan saying "lying and smearing diplomacy" was not constructive and must be ended. He also said the economic coercion by China, which Suga had mentioned, had its origin in the US.
"China does not wantonly bully others and impose sanctions, exercise long-arm jurisdiction, or arbitrarily oppress foreign companies. China can by no means be accused of economic coercion," he said.

FacebookTwitterLinkedinEMail