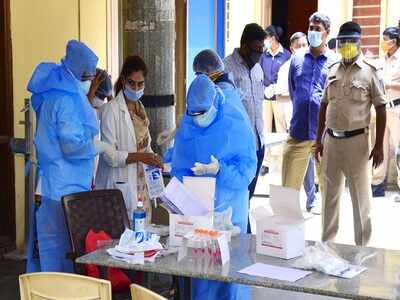 TOI file photo
NEW DELHI: The Centre has asked all states to replicate the best practices implemented by Karnataka, which includes comprehensive contact tracing of Covid-19 cases and physical or phone-based household survey, for better management of the coronavirus pandemic.
Highlighting the two initiatives taken by Karnataka, the health ministry said the state has developed the 'whole of government' approach with the involvement of multi-sectoral agencies and supported by technology-based solutions and interventions.
They effectively trace and track each case thereby successfully containing the spread of the epidemic, the ministry said.
The Centre has asked the other statesto adapt these best practices to their local context and replicate them for better management of the Covid-19 pandemic.
India on Friday added 13,586 new Covid-19 cases, the highest recorded in a single day so far, taking the total tally to 3,80,532, while the death toll rose to 12,573 with 336 new fatalities..
Karnataka has so far reported 114 deaths and 7,944 cases.
Contact tracing is a critical component towards containing the epidemic and ensuring that the health infrastructure does not get overwhelmed, the ministry said.
Karnataka has widened the definition of 'contact' to include both the high-risk as well as low-risk contacts as defined by the central government. The number of primary and secondary contacts in Karnataka were meticulously traced and put under strict quarantine. More than 10,000 well trained field staff carried out specific responsibilities for contact tracing as per the detailed SOP designed by the State which prescribes step-by-step actions to be performed by each designated person.
Contact tracing mobile app and web applications are being used to overcome the huge quantum of work, genuine forgetfulness of the positive persons and attempts to hide facts due to various reasons, the ministry said in a statement.
The state has been able to curtail the spread of infection in slums of big corporation areas through compulsory institutional quarantine of the contacts residing in slums or similar areas.