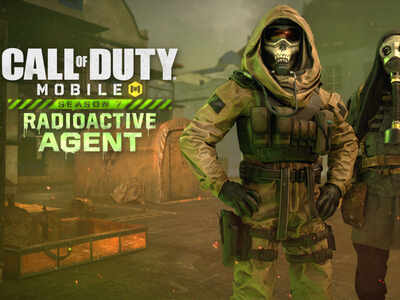 Call of Duty: Mobile's Season 7 has been rolled out on both Android and iOS devices. It is yet another heavy update of over 2GB. This season comes with the Radioactive Agent theme where new characters Ghost--Hazmat and Kreuger-- Alchemist, have the backing of new gear to counter the radioactive danger.
The update has added new game modes. These include Attack of the Undead and a new training mode. In Attack of the Undead mode, all those who join the game start as survivors, but one of them turns into the undead. If you get killed, you return as one of the undeads and start hunting the survivors.
New maps like Tunisia and Beach Town have been added with the update. Battle royale is set to get new zones like Black Market, Downtown, Sanitarium, Ski Town, Frigid Wetlands, Harbor and Heat. A new vehicle Tank has also been added to battle royale. The vehicle, simply called Tank, comes equipped with a 120mm smoothbore gun and a heavy machine gun. The vehicle will arrive in the game via a special airdrop that will happen in mid or late game. As in real life, the posterior of this Tank is weaker compared to its front, so if you plan to take one down, aiming to hit the rear with RPGs and explosives should do the trick.
A new battle royale class called the Smoke Bomber also comes with the update. The specialty (active skill) of the new class is throwing a smoke grenade that splits up into a number of smoke bombs in the targeted area. The passive ability of the Smoke Bomber is the Smoke Perspective which reveals enemies in the smoke and also increases the movement speed when attacked while running. A new base LMG 'Chopper' also comes with the new update. It is a fully automatic weapon with a high fire rate.