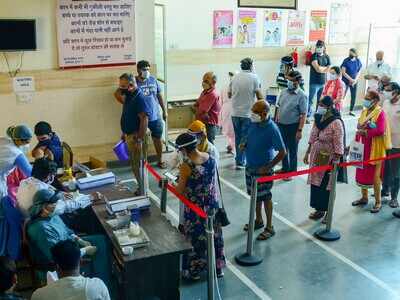 Representative image
NEW DELHI: Union health secretary Rajesh Bhushan on Sunday chaired a high-level video meeting with all the states/UTs on Covid-19 situation in the country.
During the meeting, the Centre highlighted critical protocols for Covid-19 containment and management in peri-urban, rural and tribal areas. The Centre also discussed the clinical management for Covid complications like Mucormycosis infections - commonly known as Black fungus with the states and UTs.
"With gradual ingress of Covid in rural and peri urban areas, the importance to ensure community-based services and PHC services to manage the situation was highlighted," Union health ministry said in a statement.
"Mechanism for surveillance, screening, isolation and referral of cases from such areas, monitoring of home isolation cases and providing them with information pamphlets, ramping up of facilities in all the three subsequent levels of Covid-19 healthcare; CCCs, DCHCs and DCHs was discussed at length," it added.
The Centre also urged the states to break the myth that CoWIN platform is biased to those abled by technology and requested them to make good use of facilitated cohort registration.
"This involves using ASHA workers and ANMs to mobilise eligible population groups on pre-publicised date and time. ASHAs and ANMs can then facilitate the vaccination of such groups by proactively brining them to the vaccination centres, registering them as on-site registration and then ensuring their vaccination," it said.
The Centre reiterated the importance of the Rapid Antigen Test (RAT)and urged the states to use this among the communities for "large scale screening and quick identification of the Covid infection."
AIIMS chief Dr Randeep Guleria advised states to curb the excessive use of steroids amid rise in cases of Black Fungus in several states.
"Steroids are to be administered only to those hypoxic; in low doses; not beyond 10 days at a stretch," he said adding that that prevention is more important than treatment when it comes to such complex infections.

FacebookTwitterLinkedinEMail