TNN | Oct 9, 2020, 04:07 IST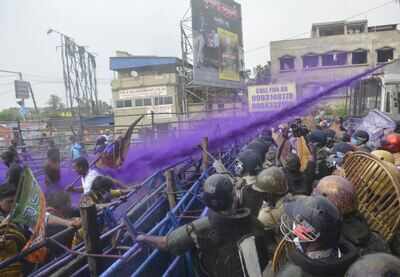 BJP activists try to breakthrough a police barricade as police use a water canon during a protest march toward...Read More
NEW DELHI: Protesting over police action against party workers in Kolkata, BJP president JP Nadda on Thursday said the cadre will continue their fight against the "corrupt, violent and dictatorial rule" of West Bengal chief minister Mamta Banerjee to restore Bengal's lost glory and pride.
Nadda said Mamata Banerjee's party workers and the government machinery unleashed brute force on BJP 'karyakartas' in an attempt to prevent them from holding protests against her "tyrannical and bloody" misrule in the state.
"Such misuse of power is totally unacceptable and condemnable," Nadda said and added that beating up peaceful protestors, hurling country-made bombs and using water cannons on their protest march show Mamata Banerjee's frustration.
Law minister Ravi Shankar Prasad said anti-social and lumpen elements who had patronage of the Trinamool Congress government and West Bengal police targeted BJP workers who were peacefully holding protests.
"More than 1500 BJP workers were seriously injured in the planned attack by the West Bengal police," Prasad said.
Clashes broke out between BJP workers and the West Bengal Police in Kolkata on Thursday as BJP workers marched towards the state secretariat 'Nabanna'.

more from times of india news