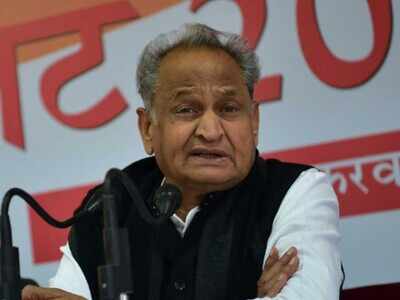 JAIPUR: Accusing the BJP of hatching a conspiracy to topple his government with lucrative offers to MLAs ahead of the Rajya Sabha elections, chief minister Ashok Gehlot said the allegations are now being investigated by the SOG.
Gehlot, however, refused to disclose names of those behind the toppling game, allegedly involving transfer of money for horse trading.
"Democracy is being destroyed by the Prime Minister Narendra Modi and Amit Shah duo at a time when the country is fighting coronavirus," alleged Gehlot at a press conference attended by deputy chief minister Sachin Pilot and other senior leaders of the party at a hotel here.
"What happened in Karnataka and Madhya Pradesh is known to all, and now it is being tried here in Rajasthan," he said
"If the BJP leaders are making calls to the Congress and independent MLAs, what should we call this," he asked.
He repeated the charge that the Rajya Sabha election was earlier postponed to facilitate horse trading by the ruling dispensation at the Centre.
"Rajya Sabha elections could have been held two months earlier. Even though preparations had been made, the election was suddenly postponed at the last minute without any reason. I had then said that it was done to facilitate horse trading. I have been proven right," he said.
Gehlot said the charge of poaching Congress MLAs was now being probed by the SOG, following a complaint by party chief whip Mahesh Joshi.
Pledging to defeat the designs of BJP, he said the party was also seeking the support of two CPM MLAs and BTP MLAs to ensure maximum gains for party candidates in the June 19 biennial election. The Congress MLAs are continuing to huddle at a city resort.