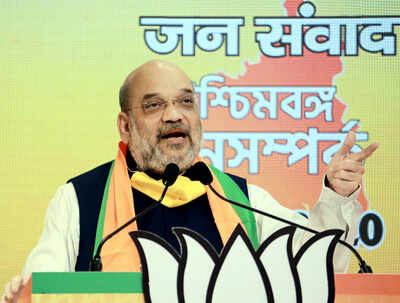 NEW DELHI: Even as the corona pandemic continues to spread across the country, Union home minister Amit Shah on Tuesday kicked off BJP's campaign for the West Bengal assembly elections slated for 2021. Addressing the state through a virtual rally, the former BJP chief launched a front foot attack on the Mamata Banerjee-led Trinamool Congress government.
Lashing out at chief minister Mamata Banerjee, Shah said that the TMC supremo is encouraging "political violence to grow in the state" and promised to return the state to the golden days of culture and tradition if the BJP is voted to power.
The Union minister also alleged that the state government had been preventing people from availing the benefits of central schemes like Ayushman Bharat (health insurance) and those meant to provide relief to the farmers.
Shah also revived the talk of the contentious Citizenship Amendment Bill (CAA), that provoked protests across the country, asserting that the Centre will pass it. Banerjee has been one of the most vocal critics of CAA which seeks to offer citizenship to persecuted minorities, excluding Muslims, from Pakistan, Bangladesh and Afghanistan.
Hitting back, the TMC accused the BJP of being "hungry for votes" and said this was not the time to start a political campaign when people expected the home minister "to work shoulder to shoulder" with the chief minister to help the state fight the coronavirus crisis and the devastation caused by Cyclone Amphan.
TMC leaders Derek O'Brien, Dinesh Trivedi and Amit Mitra (finance minister) told the media through a virtual press conference that Shah "lied" about the figures he gave during his speech.
"He said 10 crore toilets have been built when only 1.43 crore had been built and on the power situation he is unaware that Bengal has surplus power and no power cuts," said Mitra.
"The issue in the country today and the world over is corona, which is why the home minister had to do a virtual rally, indicating that these were unnatural times. It is unfortunate that we have to counter political charges made by the home minister of the country when it is time to deal with a much more important issue like the pandemic. If we fight it together — the Centre and the states — the country can overcome the crisis," said TMC leader Dinesh Trivedi.
He slammed Shah for holding "political rallies" when the people are dealing with health and other security issues.
After a two-month break from political activities, since the country went into coronavirus-induced lockdown, the BJP has revived political activity in the country through virtual rallies ahead of crucial Rajya Sabha elections, Lok Sabha byelections and the assembly polls.