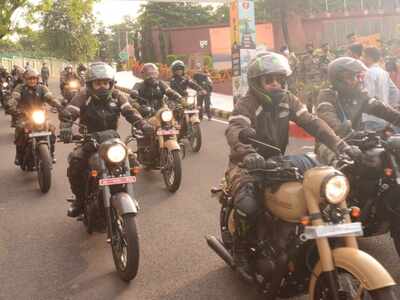 The Dhruva Kargil Ride, comprising 75 bikes, was flagged off from Dhruva War Memorial under the aegis of Headquarter Northern Command.
JAMMU: Dhruva Kargil Ride, comprising 75 bikes, was flagged off from Dhruva War Memorial by Subedar Sanjay Kumar, PVC under the aegis of Headquarter Northern Command to mark 22nd Kargil Vijay Diwas and 75 years of independence and to immortalize the supreme sacrifice made by the soldiers.
PRO Defence Udhampur said, "Comprising four segments sponsored by JAWA Classics Motorcycle Company the ride was organized and the main segment of the ride comprises 25 Jawa Classic Legend riders were launched from Udhampur led by none other but Lieutenant General YK Joshi, GOC-in-C, Northern Command today morning.
"Alongside this main ride, there will be subsidiary rides launched from Naushera, Srinagar and Karakoram Pass making it to a total of 75 bikes marking 75 years of India's Independence."
He said, "The segments starting from Naushera with 15 bikes and Udhampur with 25 bikes will be joined by Srinagar segment with 20 bikes at Srinagar today."
"The segment covering the icy heights of Karakoram will traverse through Daulat Beg Oldie (DBO) Darbuk Leh and Kargil to converge with the main segment at Kargil War Memorial, Drass on July 23 (Friday) where the entire ride is culminating to further participate in the Kargil Vijay Diwas 2021.
Speaking on Flagging off ceremony, the Northern Command Army Commander who himself is a Kargil war veteran said, "Despite and in spite of challenges the soldier will always stand steadfast in his vigil to protect the nation and will go beyond the duty to make the supreme sacrifice without batting an eye lid."
"Operation Vijay may have ended 22 yrs back but the battle here in Jammu & Kashmir still rages on, he said, adding, "there is no gratification in violence and the life of a terrorist from the day he picks up a weapon to the day he is neutralized is not more than two months."
"I would exhort the parents to ensure that their children are not misguided and lured as cannon fodder by the deep state and nexus who sit in comfort and decadence to see your children act at their behest," Northern Army Commander Mr Yoshi said
He also added, "Operation Vijay is testimony to the fact that there has never been and there will never be a compromise on the territorial integrity of the nation and any such farfetched idea will remain a pipe dream."
"Indian Armed Forces will defeat any nefarious design of the adversary with resolve, courage and bravery unparalleled in history."
He added that in the last two years we have made steady progress and the violence parameters have ebbed considerably indicating a paradigm shift in the common Kashmiri mindset which today is driven to seek peace and prosperity for the future generations.
"Let me assure each one that Indian Army shall walk with you in step towards a prosperous and better future. Be it Ladakh or J&K our commitment to the local population is complete and comprehensive where we shall share their burden with equanimity and cheer".
At 60 years of age, the Northern Army Commander gave a unique message to the youth that age is just a number and is no bar for adventure. Challenges of Weather, High Altitude and long distances can be overcome with grit and determination.
PRO Defence said, "This Bike Ride is an excellent and unique initiative by the Army alongwith JAWA Bikes to honour the brave hearts and immortalise their memory in the minds of everyone. "It will not only send a strong patriotic message to everyone in J&K, but will also keep inspiring the generations to come."
Earlier Lieutenant General YK Joshi, GOC-in-C, Northern Command, thanked Anupam Thareja, Co-founder of Classic Legend for conceptualizing the event and in implementation.
The Army Commander Northern Command will be joined by Lieutenant General PGK Menon, Lieutenant General DP Pandey, Lieutenant General MV Suchindra Kumar, that is the three Corps Commanders of 14, 15 and 16 Corps respectively. In addition, two Major Generals, Four Brigadiers, Sixty two officers, six ladies, four wards, three civilians, one JCO and fifteen other Ranks will also be forming part of the ride.

FacebookTwitterLinkedinEMail