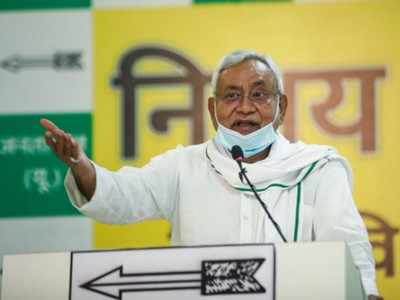 PATNA: Bihar chief minister Nitish Kumar on Monday demanded an investigation into the alleged snooping using the Pegasus spyware.
It is the first time an NDA ally has supported the opposition's demand to probe into the Pegasus row.
When asked by media persons whether an investigation should be done into the Pegasus scandal, Nitish said, "it should happen."
"The matter of telephone tapping has been coming for so many days, it must be discussed. There must be a discussion on this issue (in Parliament)," he said.
"These days, you do not know who will do what by misusing technology on such things. Therefore, the government should, in my opinion, take an appropriate step after observing all aspects of the issue. But, I am not sure what has actually happened, what has not happened. Some people are speaking in the Parliament. I know whatever information about the Pegasus is in the newspapers. But the entire matter - - how phones are being tapped, heard by others or conversations being overpowered – should be investigated properly. All things should come before the public, when the Opposition is raising the issue (in Parliament) for so many days," Nitish told reporters.
He was responding to media queries after his weekly 'Janata ke Darbar Mein Mukhya Mantri' programme.
Nitish also said, "Whatever is the truth behind the scandal it should come before the public. If anyone indulges in the act of telephone tapping with an intention to disturb someone, irritate someone; such a thing should not happen."
On being asked if there is deadlock in the Parliament as the opposition has been demanding a JPC into the Pegasus controversy, Nitish said, "It is a matter of inside the Parliament. The government has already given a reply on the issue in the House. If the government has given a reply, then …… We do not have entire information on the issue. We are aware that there is a deadlock on the issue. ….. If people (opposition members) are aware, then they should put the entire matter in the House."
Nitish's statement assumes political significance at a time when the opposition parties are demanding a discussion on the issue in the Parliament.
JD(U) is a coalition partner of the ruling NDA both at the Centre and Bihar.
In Bihar, Nitish himself is leading a coalition government with support of the BJP and other two small allies.

FacebookTwitterLinkedinEMail