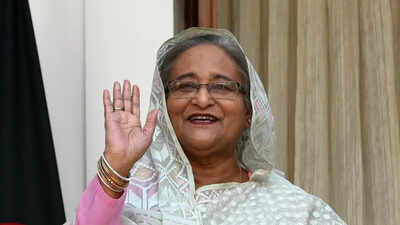 Bangladesh Prime Minister Sheikh Hasina is likely to visit New Delhi early next year
NEW DELHI: Bangladesh Prime Minister Sheikh Hasina is likely to visit New Delhi early next year. The dates for the visit expected to be in January or February 2022, will be finalised only after a formal invitation from Prime Minister Narendra Modi is extended to her later this year, according to sources.
With India participating in the celebrations for 50 years of Bangladesh's Independence this year and both countries having pledged to commemorate December 6 - the day India recognised Bangladesh in 1971 - as Maitri Diwas, PM Modi's only international travel during Corona pandemic, before leaving for the UNGA session last week, was to Dhaka in March to participate in the golden jubilee celebrations of the birth of Bangladesh.
Interestingly, both PM Modi and Hasina were in New York recently, addressing the United Nations General Assembly sessions representing their respective nations, the two countries are also showcasing 50 years of their bilateral relations at the UNGA session.
Exactly 50 years ago, diplomats from both countries played a crucial role in the recognition of the new-born Bangladesh. According to external affairs ministry sources, "the role of the Indian armed forces helping the Mukti Bahini in East Pakistan to liberate Bangladesh is well known, but it is also important to draw attention to the diplomatic initiatives taken by India in 1971 to raise the issue of Bangladesh's independence on the global platform."
On September 27, 1971, the Indian delegation at the UNGA, led by the then external affairs minister Sardar Swaran Singh apprised the world of the atrocities taking place in what was then East Pakistan. At the Plenary session Singh also called upon Pakistan to release Bangabandhu Sheikh Mujibur Rahman, who was in Pakistan's custody. Bangladesh is also celebrating 100 years of Bangabandhu this year.
The then Prime Minister Indira Gandhi's diplomatic efforts in touring of several capitals around the world to garner support for Bangladesh also yielded results as UK, East and West Germany, France, Russia and Poland came out in support of the cause of Bangladesh and UK and France broke away from the US to block pro-Pakistan directives in the UN Security Council in 1971.
While the Teesta water sharing has been on top of the pending list of issues to be resolved between the two countries, it is "unlikely" to come in the way of mutual cooperation on other bilateral matters, when the two leaders meet, according government sources in Dhaka.

FacebookTwitterLinkedinEMail