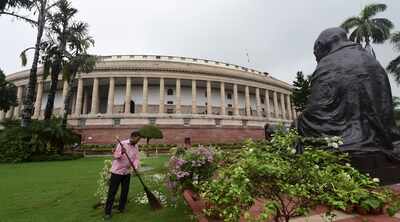 NEW DELHI: Amid protests by the Opposition over Pegasus issue and farm bills, Lok Sabha on Monday passed a bill to amend the general insurance law to allow the government to reduce its stake in state-owned insurers.
The General Insurance Business (Nationalisation) Amendment Bill, 2021 is aimed at generating required resources from Indian markets so that public sector general insurers can design innovative products.
While the bill was moved for passage, Congress leader in the House Adhir Ranjan Chowdhury says the proposed law is "anti-people" and "anti-national".
Calling the allegations "baseless", Finance Minister Nirmala Sitharaman said, "The government is not taking away anyone's rights. Companies in the private sector are giving good policies to people. Therefore, the Congress leader is speaking untruth and misleading the people. If he has to speak more against the bill, he should allow the House to debate."
Proceedings were also disrupted In Rajya Sabha which too witnessed multiple adjournments even though the House passed the Inland Vessels Bill-2021 amid the din.
The bill aims to bring uniformity in the application of the law relating to inland waterways and navigation within the country. Lok Sabha has already passed it.
When some opposition members sought a division, Deputy Chairman Harivansh Narayan Singh asked all MPs to go back to their respective seats first. As the MPs refused to do so and some even tore papers in the well of the House and tossed them in the air, the bill was finally passed with a voice vote. Two appropriation bills were also moved in the House later.
Later TMC Rajya Sabha member Derek O'Brien hit out at the Union government for rushing to pass bills, pointing out that 12 bills were passed "at an average time of under seven minutes per bill".
"In the first 10 days, Modi-Shah rushed through and passed 12 Bills at an average time of UNDER SEVEN MINUTES per Bill. Passing legislation or making papri chaat!" Derek O'Brien tweeted.
In the morning, RS Chairman M Venkaiah Naidu said he was willing to consider a discussion on farmers' problems if members cooperate.
Naidu also congratulated PV Sindhu for winning a Bronze medal at Tokyo Games and said she has scripted history by becoming the first Indian woman to win two Olympic medals. He said Sindhu along with her father used to travel 120-km daily for training. "It is appropriate to take note of the role of Sindhu's parents and family in her spectacular rise and achievements in Badminton that brought her laurels for our country."

FacebookTwitterLinkedinEMail