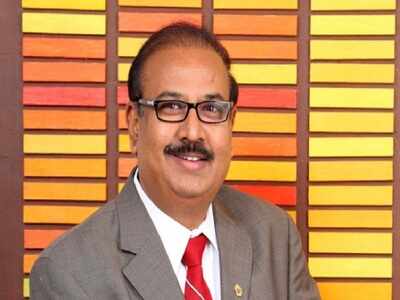 Bharat Biotech chairman and CMD Dr Krishna Ella
Hitting back at critics who targeted his company for not being transparent about vaccine trial data and receiving emergency use authorisation (EUA) for Covaxin even before trial ends, Bharat Biotech chairman and managing director (CMD) Dr Krishna Ella on Monday said his company's vaccine data is very much in public domain, saying, "Many people are just gossiping. Indian companies do not deserve this backlash."
A day after his company's indigenously developed vaccine got the EUA, Dr Ella, while addressing the media via video-conferencing on Monday, said, "Many people say that I am not transparent in my data. I think people should have patience to read on the internet & how many articles we have published. More than 70 articles have been published in various international journals." He said, "Even the US government says emergency authorisation can be given if a company has good immunisation data. Merck's Ebola vaccine got authorisation for emergency use even before completion of phase-3 trial. Johnson & Johnson did trials on 87 people & got the emergency licence."
Amid remarks by a few political netas that the vaccine has been granted EUA without completion of phase-3 trials, he said Central Drugs Standard Control Organisation (CDSCO), 2019, clearly states that "if yours is a proven platform technology, safe platform technology, and good pre-clinical trial data is available then you can get the emergency license for the product".
'We are not 'water-like' and backup vaccine'
Without naming Serum Institute CEO Adar Poonawalla, who had termed vaccines other than that of Pfizer, Moderna and Oxford-AstraZeneca "just like water", Dr Ella said, "We do 200% honest clinical trials and yet we receive backlash. If I am wrong, tell me. Some companies have branded us like water." The CMD said, "Covaxin has shown less than 10% adverse reactions, while others have 60% to 70% adverse reactions. I can assure our vaccine is 200% safe" He also said Covaxin is not inferior to that developed by Pfizer. On the statement of AIIMS director Dr Randeep Guleria that Covaxin will be used as a "backup vaccine", Dr Ella said, "It (Covaxin) is a vaccine. It is not a backup. People should be responsible before making such statements." He also slammed the people for politicising their work, saying, "Now that vaccine is being politicised, I want to state very clearly that none of my family members is associated with any political party." Elaborating on DCGI's approval of "restricted use in an emergency situation in clinical trial mode", he said, "Without placebo, we keep vaccinating people at an open level and then monitor the safety and efficacy."
Whether Covaxin is effective against UK strain
Dr Ella said, "We have taken 3-4 strains and studied it. It will come in publication on Medrevix on January 10. In a week's time, our confirmative data will come."
'We currently have 20m doses, will achieve 700m doses capacity'
The Bharat Biotech CMD said "currently, we have 20 million doses. We are aiming to achieve 700 million doses capacity (per annum) in four facilities, including Hyderabad and Bengaluru. We will roll out the vaccine as early as possible. By 2021, we will have 7,600 million doses capacity." "We have already sent the batch to the Central Research Institute in Kasauali," he added. On the pricing front, he said the cost of vaccines may be a little higher in the beginning but as the scale of production increases, the price will be controlled by the market. He also said that Bharat Biotech is soon going to include children in clinical trials.
'We are not an India firm but a global company, doing trials in 12 nations'
Dr Ella said Bharat Biotech is not just conducting clinical trials in India but has done clinical trials in over 12 countries, including the UK. "We are doing trials in Pakistan, Nepal, Bangladesh, and other countries. We are not just an Indian company. We are truly a global company," he said, adding "we are the only company that has got extensive research experience and extensive publication peer-reviewed journals". About Bharat Biotech's experience, he said, "We have tremendous experience in vaccines. We are touching 123 countries. We are proud to say that we have the only BSL-3 production facility in the world, even the US doesn't have it. We are here to help any public health emergencies in any part of the world," he added.

FacebookTwitterLinkedinEMail