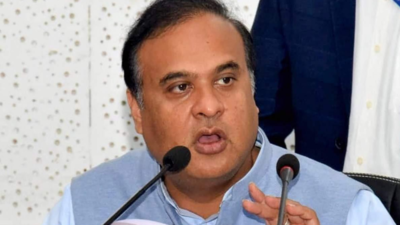 NEW DELHI: All India Kisan Sabha (AIKS) demanded the resignation of Assam chief minister Himanta Biswa Sarma on Saturday, following the death of two people in a police firing during an eviction drive on Thursday.
The AIKS, a constituent of the Samyukta Kisan Morcha (SKM), a joint forum of 500 farmers' organisations, will also send a delegation to Assam on a fact finding mission to get the details on what transpired in Darrang district where two people were killed in police firing, said AIKS general secretary Hannan Mollah.
AIKS president Ashoke Dhawale and Mollah alleged the ruling BJP in Assam and Haryana — where also a farmer died in a police action recently – was on a "killing spree" to stop the farmers from protesting against the new farm laws. "This is being done because they (BJP) are unable to deter us from protesting against the three anti-farmer laws even after 10 months of sitting on a dharna outside Delhi," Mollah said at a press conference here.
Expressing "shock and anger" at the manner, in which "brute force is used to forcibly evict thousands of poor peasants in the Dholpur-Gorukhuti area of Sipajhar in Darrang district of Assam", the AIKS leaders said the horrific manner of the police action and the brutality inflicted on a dead farmer is a blot on humanity. "The eviction drive took place even as a case was pending with the Gauhati High Court, without even giving enough notice to the people," said an AIKS leader.
Demanding a judicial enquiry into the Darrang incident, the AIKS leaders said constitutional guarantee of equality and security for all citizens is being grossly violated. "The AIKS demands dismissal of the authorities responsible for the killing and resignation of the Assam chief minister Himanta Biswa Sarma who is directly responsible for encouraging such action," said an AIKS leader, also accusing the BJP of creating "communal polarisation".
Meanwhile, gearing up for a countrywide bandh called on Monday, the SKM has appealed to the non-BJP state governments, trade unions and other workers', students', youth and women's organisations to support the bandh. "While Kerala government will support the bandh, Congress-ruled states are also likely to show solidarity with the farmers," said an SKM leader.

FacebookTwitterLinkedinEMail