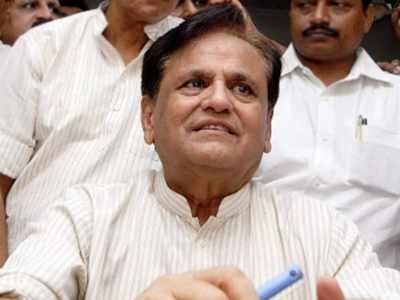 (File photo)
NEW DELHI: Citing fears of contracting coronavirus at Enforcement Directorate headquarters, Ahmed Patel, the political secretary to Congress president Sonia Gandhi, refused to appear before the investigating officers on Tuesday. He was summoned by the agency in connection with a Rs 15,000 crore money laundering case against Vadodara-based Sterling Biotech Ltd (SBL) group of companies and its promoters Nitin and Chetan Sandesara.
Patel, a Rajya Sabha MP and also treasurer of the Congress, sent a letter to ED arguing that he is over 65 years in age and as per the government's directives on the coronavirus pandemic, he should not venture out of his house, sources said. The senior Congress leader also reminded the agency that he has learnt about an outbreak of Covid cases at ED's headquarters with some officers testing positive and hence it would be putting himself in danger if he visited the directorate.
Soon after receiving Patel's communication on Monday, the ED authorities sent another notice to the Congress leader informing him that all due care will be taken in his case as they do with all senior citizens during the pandemic period as per the guidelines and standard operating procedures issued by the government.
Sources said the agency has asked Patel to fix a date as per his convenience sometime next week for his interrogation session, and if he is hesitant to come to the ED headquarters, a team of officials will visit his residence to record his statement in the money laundering case.
The ED is probing Patel's connection with bank loans to the tune of Rs 5,000 crore received by the SBL group in India which was allegedly laundered by the Sandesara brothers. The accused later received huge funds from the overseas branches of public sector banks which they used in buying oil fields, private yachts and aircraft besides acquiring properties in foreign countries. The Sandesara brothers have fled to Nigeria with their family and their passports have now been revoked with the government having initiated their extradition from Nigeria.
The ED has already attached Rs 14,400 crore worth of assets of the SBL group and its directors — Rs 9,700 crore assets, including oil rigs, a private jet and other properties, attached last June in Nigeria and other countries and Rs 4,700 crore worth of assets attached in India.