LUCKNOW: BJP consolidated its 'sawarn' (upper caste), non-Yadav-OBC and non-Jatav-SC rainbow social coalition in UP, ahead of the 2022 UP polls, by inducting seven new ministers in an expansion of the Yogi Adityanath ministry on Sunday.
They include one Brahmin, while three are from Other Backward Castes (OBCs), two from the Scheduled Castes (both Khatiks) and one from the Scheduled Tribes.
The political conglomerate of the above castes gave BJP more than 40% votes and three-fourth majority in the last three elections — 2014 and 2019 Lok Sabha and 2017 assembly polls in UP.
The social profile of the new ministers is the same as the seven inducted in the Modi ministry from the state two months ago — signalling the intent to consolidate communities other than Muslims, Yadavs and Jatavs who are either hostile to the party or have staunchly aligned with its rivals.
The induction follows BJP's move to strengthen ties with the Kurmi-aligned Apna Dal, and Nishad Party which represent a group of riverine communities, and giving Union HRD minister Dharmendra Pradhan, an OBC, the charge of UP elections.
The appointment of Jitin Prasada, a member of Rahul Gandhi's team before he crossed over from Congress, reflects the intent to assuage the concerns of Brahmins who are being wooed by BSP and SP. Prasada is the only one of the seven who has been appointed a cabinet minister. The others are ministers of state.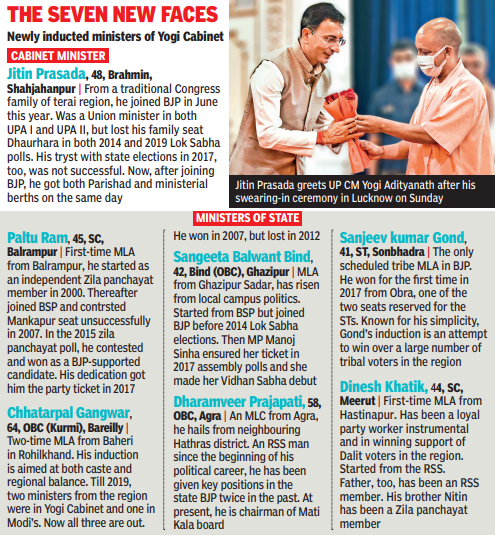 Both the representatives of Dalits are Khatiks or Sonkars: Paltu Ram from Balram Pur and Dinesh Khatik from Hastinapur in Western UP, a region which has a good presence of his community. Khatiks have traditonally been well-disposed towards BJP. Sanjay Gond represents STs.
The OBC nominees include Dharmveer Prajapati (Kumhar or potter), Chhatrapal Gangawar (Kurmi) and Sangeeta Balwant Bind. Binds are part of the larger Nishad category.
BJP had on Friday announced its tie-up with Nishad Party whose leader, Sanjay Nishad, was nominated to the Legislative Council on Sunday evening.
The additions in Lucknow on Sunday mirror the inclusions in the Union council of ministers from the state earlier this year. The exercise saw PM Modi bringing in one Brahmin Ajay Mishra, three OBCs including Anupriya Patel, Pankaj Choudhary (both Kurmis), BL Verma (Lodh) and three SCs including Bhanu Pratap Singh (Kori), SP Baghel (Baghel) and Kaushal Kishor (Pasi).