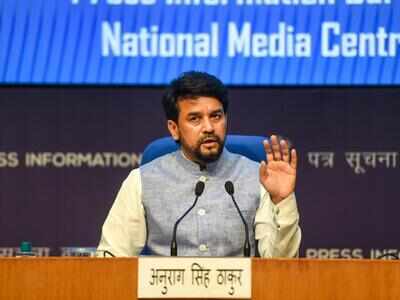 NEW DELHI: Information and broadcasting minister Anurag Thakur said on Thursday that investigation agencies are "doing their work" and that there is "no (government) interference in it" with reference to the income tax action against the Dainik Bhaskar group and Bharat Samachar.
Speaking on the sidelines of a Cabinet briefing, Thakur responded to a question on the opposition allegation that the searches were intended to throttle the voice of democracy.
"One should take complete information and in its absence sometimes many issues come up that are far from the truth," the minister said. Thakur's remarks came even as the income tax department conducted multicity searches against Dainik Bhaskar and Bharat Samachar, triggering criticism from journalist organisations and political leaders.

FacebookTwitterLinkedinEMail