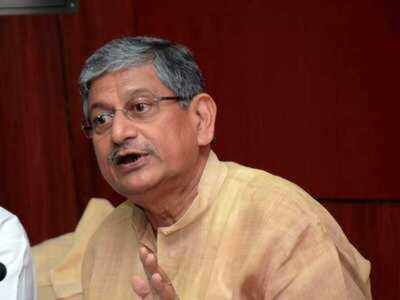 JDU's newly-appointed national president Rajiv Ranjan Singh. (File photo)
PATNA: A delegation of Lok Sabha members of Janata Dal (United), led by its new president and Munger MP Rajiv Ranjan Singh alias Lalan Singh, on Monday met Union home minister Amit Shah at the latter's office in the Parliament, to press for the demand of caste-based census in the country.
The delegation also submitted a memorandum, signed by all 16 Lok Sabha members of JD(U) from Bihar, to Shah, demanding caste-based enumeration of population in the country.
"It has been informed in the Monsoon session of the Parliament that caste-wise enumeration of population would not be done. We are disappointed by this information, because our Union government is known for working for the welfare of peoples hailing from backward and disadvantaged groups. This information is very disappointing," the opening para of the memorandum submitted to Shah reads.
Nalanda MP Kaushalendra Kumar, who was part of the JD(U) delegation, on Monday told TOI, "Bihar assembly had passed unanimous resolutions in 2019 and 2020 for having a census on the caste line. Both the resolutions were sent to the Union government. It is now for the Union government to take a final decision on the matter."
He said the delegation led by Singh, urged the home minister to issue a fresh order for caste-wise counting of population during the forthcoming census.
Shah, he said, assured the delegation that the matter would be discussed.
"The actual number of different backward and other castes could be known only through the caste-wise census. Today, most of the people and political parties support the demand of caste-wise census," Kaushalendra said over phone from Delhi.
In fact, the delegation of JD(U) MPs had sought time from the PMO to meet Prime Minister Narendra Modi to press for its demand but they were asked to meet Shah.
Earlier on Saturday, JD(U) passed a resolution in support of the caste-based enumeration of population, at its national executive meeting where Singh was nominated its new president.
A few days ago, Bihar CM Nitish Kumar too urged the Centre to reconsider its decision of not enumerating caste-wise population in the forthcoming census and allow a caste-based census.

FacebookTwitterLinkedinEMail